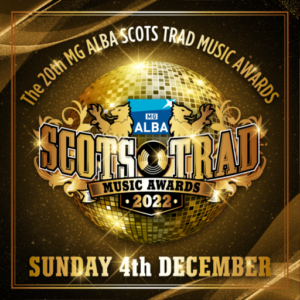 MG ALBA Scots Trad Music Awards opens Public Vote for Shortlisted Nominees, and returns to Dundee's Caird Hall, live & on screens, for its celebratory 20th anniversary on Sunday 4th December 2022. VOTE NOW!
Popular annual MG ALBA Scots Trad Music Awards (Na Trads), which recently won a Royal Society of Television Award with MG ALBA & production company BEEZR TV, is set to take the stage with its first full sized event post lockdown in a spectacular once-in-a-generation night to remember, including the Youth Music Initiative, which also celebrates its 20thanniversary.
Margaret Cameron, Director of Content at MG ALBA said, "It is always a pleasure to see the incredible wealth of talent we have in the world of Scottish traditional music showcased on BBC ALBA, and there are few nights better than Na Trads for doing just that. The 20th anniversary celebration will be a night to remember."
Ealasaid MacDonald, Director of Strategy & External Affairs at MG ALBA, said: "MG ALBA are extremely proud to sponsor these awards, and we cannot wait to attend the first post lockdown event to celebrate 20 spectacular years of Na Trads. It's been a very difficult couple of years for the music industry in Scotland and that's what makes this recognition for all the impressive innovation and collaboration all the more important."
The MG ALBA Scots Trad Music Awards annual Gala rocks the scene by championing top Scottish traditional musicians of all genres, recognising, and celebrating the wealth of talent via phenomenal performances, which this year will be live from Caird Hall in Dundee City Centre, and on BBC ALBA at 9.00pm.
Broadcast in partnership with headline sponsor MG ALBA on BBC ALBA, the awards ceremony will feature live performances from Elephant Sessions, FARA, Trip, the Eryn Rae Trio (BBC Radio Scotland Young Traditional Musician Award Winner 2022), the Gordon Shand Scottish Dance Band, The Auldeners, St. Roch's Irish Minstrels and Tayside Young Fiddlers, plus a Tribute to James Alexander, Fochabers fiddle teacher and performer, from his former pupils.
Everyone can vote for their favourites to win the prestigious Awards via the website and links on social media from Monday 7th November 2022, which generates 100,000's of public votes each year.
Organiser and Awards Founder Simon Thoumire of Hands Up For Trad said, "In difficult times bands are getting back out on the road and filling venues across the world, bringing joy to people, and it's great to be back to celebrate this and showcase all the work that has been taking place to fill people's lives with music, whilst also remembering that we need to support our clubs and venues."
Hands Up For Trad supports many aspects of traditional Scottish Music, Arts & Culture, through events, supporting artists, awards, teaching and fundraising. The Awards give recognition to excellence within Scotland's thriving traditional musical culture. Encompassing all aspects of making and playing from composing, Gaelic song, folk and Scottish dance music to pipe bands and a host of others in between, each year sees a lively and enthusiastic crowd enjoying some of the biggest names as the industry and audiences join to honour singers, instrumentalists, composers and songwriters.
For 2022 and the 20th Anniversary year, the twenty-five Awards are:
Album of the Year sponsored by Birnam CD (Listen here)
A Drop for Neptune by TRIP
And So We Gather by Kim Carnie
Bloom by Siobhan Miller
DAWN by Talisk
Energy Islands by Fara
For The Night by Elephant Sessions
Las by Brighde Chaimbeul, Ross Ainslie & Steven Byrnes
Still As Your Sleeping by Karine Polwart & Dave Milligan
To Have You Near by Hannah Rarity
We Have Won The Land by Rory Matheson & Graham Rorie
Event of the Year sponsored by VisitScotland
Braemar Folk Festival (Bràigh Mhàrr)
HebCelt (Leòdhas)
Newton Stewart & Minnigaff Traditional Music & Dance Festival (Siorrachd Chille Chùithbeirt)
Piping Live (Glaschu)
Shetland Folk Festival (Sealtainn)
Speyfest (Fachabair)
Original Work of the Year sponsored by Gordon Duncan Memorial Trust
Ally Forsyth – Summer EP
An Dannsa Dub E.P
Talamh Beò – Living Land, commissioned by Coigach & Assynt Living Landscape Partnership Scheme
Tiernan Courell Music "How's About Now" EP
Community Project of the Year sponsored by Innes and Campbell Communications
Isle of Arran Music School
SC&T Youth (Aberdeen)
Seachdain na Fèise // Fèis Week 2022 (Fèis Phàislig)
The Folks' Music Project CIC (Neilston)
Gaelic Singer of the Year sponsored by The Highland Society of London
Anne Martin
Fiona J. Mackenzie
Marcas Mac an Tuaimeir
Ruairidh Gray
Trad Music in the Media sponsored by Skipinnish
Gavin Paterson Celtic Music Radio
Heading West: a story about a band called Shooglenifty
Tartan Tunes
The Big Rab Show
The Folk River: Tales from the Early Scottish Folk Scene by Fraser Bruce
Citty Finlayson Scots Singer of the Year sponsored by Traditional Music and Song Association
Alastair McDonald
Beth Malcolm
Scott Gardiner
Shona Donaldson
Trad Video of the Year
Anyone but You by Josie Duncan
DLÙ – Bràighe Loch Iall
Magnus Graham & Niteworks — John Riley (feat. Beth Malcolm)
Reels – Tiernan Courell
She Moves Me by Kim Carnie
Musician of the Year sponsored by The University of the Highlands and Islands
Andrew Waite
Brighde Chaimbeul
John McCusker
Megan Henderson
Ryan Young
Up and Coming Artist of the Year sponsored by Royal Conservatoire of Scotland
Isla Ratcliff
Lewis McLaughlin
Malin Lewis
Roo Geddes & Neil Sutcliffe
Sarah Markey
Valtos
Music Tutor of the Year Award sponsored by Creative Scotland's Youth Music Initiative
Charlie Mckerron
Heather Downie
Ron Jappy
Ross Miller
Sally Simpson
Folk Band of the Year sponsored by Threads of Sound
Breabach
Dallahan
Eabhal
Fara
Kinnaris Quintet
Live Act of the Year sponsored by Greentrax Recordings
Elephant Sessions
Mànran
Skerryvore
Talisk
Trail West
Scottish Pipe Band of the Year sponsored by The National Piping Centre
Inveraray and District Pipe Band
Kilchoman Distillery Isle of Islay Pipe Band
National Youth Pipe Band of Scotland
St. Columba's School Pipe Band
Scottish Dance Band of the Year sponsored by National Association of Accordion and Fiddle Clubs
Alan Crookston Band
Màrtainn Skene Dance Band
Kirkjuvagr Ceilidh Band
Leonard Brown All Star Band
Club of the Year sponsored by The Fraser Shaw Trust
Aberdeen Folk Club
Ardersier International Folk Club
Kirkcaldy Acoustic Music Club
Tchai-Ovna House of Tea – Tea and a Tune
Venue of the Year sponsored by Musicians' Union
Knoydart Community Hall
Perth Concert Hall
The Tolbooth, Stirling
Universal Hall, Findhorn
Composer of the Year sponsored by PRS for Music
James Duncan MacKenzie
Mohsen Amini
Heal & Harrow (Rachel Newton, Lauren MacColl)
Tina Jordan Rees
Studio Engineer of the Year
Andrea Gobbi (GloWorm Recording)
Barry Reid (Rose Croft Studio)
Chris Waite (Gran's House)
Keith Morrison (Wee Studio)
Lighting Designer of the Year
Andy Steven
Gary Ebdy, Lunas Live Ltd
Greig Shankland
Rob Alexander
Recording Studio of the Year
GloWorm Recording (Glasgow)
Gorbals Sound (Glasgow)
Gran's House (Lamington)
Watercolour Music (Ardgour)
Music Producer of the Year
Anna Massie
Duncan Lyall
Euan Burton
Inge Thomsen
Live Sound Engineer of the Year
Carla Feuerstein
Keir Long
Kev O'Neill
Scott Turnbull
This year the annual Scottish Traditional Music Hall of Fame is sponsored by Fèisean nan Gàidheal. Services to Gaelic Award is sponsored by Bòrd na Gàidhlig, Services to Scots is sponsored by Creative Scotland and the Hamish Henderson Services to Traditional Music is sponsored by Tracs.
The Fraser Shaw Trust, sponsoring the Club of the Year Award, was started after Fraser's passing from Multiple Sclerosis in May 2015, by a group of friends and family in his honour. Fraser Shaw was a brilliant piper, whistle player and composer from Glasgow. He had started playing the pipes at the age of 6, and at 16 moved to the Isle of Skye to study at Sabhal Mòr Ostaig. The foremost aim of the Fraser Shaw Trust is to raise money for the relief of multiple sclerosis, particularly in Argyll, Scotland, through a series of projects and events celebrating Fraser and his music. The first project was to release his much anticipated Tunebook, along with an album comprised of his music. Proceeds of the Tunebook go directly towards the MS Care Centre in Lochilphead. Proceeds of the album are used for the advancement of education, arts and culture and for the relief of those living with multiple sclerosis in Scotland, particularly on the Isle of Islay.

Read more www.frasershawtrust.com/about/
Organising body, Hands Up for Trad funded by The National Lottery through Creative Scotland, was formed in 2002 and exists to increase the profile and visibility of Scottish traditional arts, language, culture and music through information, advocacy and education to artists, participants and audiences.
Keep up to date on Twitter @handsupfortrad Instagram @handsupfortrad on Facebook: https://www.facebook.com/handsupfortrad
Please use Hashtags #NaTrads #HUFTOnline #BBCALBA
-ENDS-
PRESS: For interviews, playlists or tracks and images please contact Chris Hunt at Genuine on chris@genuine.scot
Notes to Editors:
Hands Up for Trad – Hands Up for Trad exists to promote Scottish traditional music through information, education and advocacy to artists, participants and audiences across Scotland and beyond.
MG ALBA is the operating name of Seirbheis nam Meadhanan Gàidhlig (Gaelic Media Service). MG ALBA works in partnership with the BBC to deliver BBC ALBA. Find out more about MG ALBA and the partnership at www.mgalba.com or visit www.bbcalba.co.uk for scheduling and programme information.
Na Trads kicks off a spectacular line-up of content we have to offer over the festive period. BBC ALBA will no doubt be the channel of choice this Christmas with a mix of programmes for the whole family, the centre piece of which will be the traditional BBC ALBA Hogmanay ceilidh. Extremely exciting news to still be announced in the coming weeks, be sure to follow us on social media to ensure you do not miss out!
MG ALBA delivers the BBC ALBA platforms in partnership with the BBC. We support an active and sustainable Gaelic media sector through funding, commissioning and developing production, skills and talent.
Creative Scotland is the public body that supports the arts, screen and creative industries across all parts of Scotland distributing funding provided by the Scottish Government and The National Lottery. Further information at creativescotland.com. Follow us on Twitter, Facebook and Instagram. Learn more about the value of art and creativity in Scotland and join in at www.ourcreativevoice.scot
-ENDS-