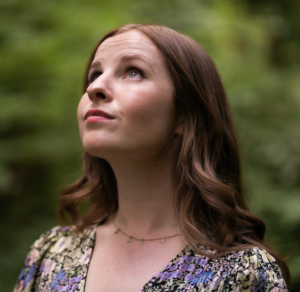 Congratulations to Beth Malcolm who has been nominated in Citty Finlayson Scots Singer of the Year sponsored by Traditional Music and Song Association in the MG ALBA Scots Trad Music Awards 2022. Vote for Beth Malcolm now!. It's going to be another great night at the MG ALBA Scots Trad Music Awards on Sunday 4th December in Dundee's Caird Hall. Why not join us for a brilliant night of music and awards. Buy a ticket here.
We asked Beth of Beth Malcolm the following questions.
Tell us about yourself
I am a singer-songwriter and keyboard player from Perth. My music is folk-inspired, and I sing a mix of traditional, modern and self-penned Scots songs.
Why are you involved in Scottish music?
I have been showing up to screch out Ally Bally Bee since I was old enough to stand on stage. After a brief hiatus from folk music in my teenage years, (read Girls Aloud), I fell in love with the old songs and music I had grown up with, as a student living in Glasgow. I found a home, singing regular floor spots at the Glasgow Star Folk club. I have been singing, harmonising, playing and writing Scots songs ever since.
Scots song is rooted in place, humour and political justice. Auld Reekie, chip shops and handfuls of earth are some of the themes that fill me up whenever I am singing.
Any particular career highlights?
Winning the Danny Kyle in 2020 was a big moment for me, and meant I got to sing at the Celtic Connections online festival in 2021. Last year, I was nominated for Scots Singer of the Year, and this year I got through to the semi-finals of the BBC Young Traditional Musician of the year competition. My highlight so far was singing with the Scottish Symphony Orchestra as part of the Niteworks concert at the Glasgow Royal Concert Hall.
What are your plans for the future?
I will release my debut album in Spring 2023, and am currently writing my 'New Voices' show for Celtic Connections. I hope to tour with my music in 2023 and 2024, and continue to write for future albums and projects. I love collaborating, and hope to continue working with contemporary Scots and folk projects.
Beth Malcolm Social Media
Website: https://www.bethmalcolm.com/
Facebook: @BethMalcolmMusic/
Twitter: @BethMalc
Instagram: @bethmalc
YouTube: @BethMalcolmMusic
The 2022 MG ALBA Scots Trad Music Awards are back to normal on the 4th December 2022! You will be able to watch it live in person (buy a ticket here),Watch it live in the UK at 9pm (GMT) on BBC ALBA and and around the world here. Bands performing on Sunday 4th December include Elephant Sessions, Fara, Trip, Eryn Rae Trio, The Auldeners, Gordon Shand Scottish Dance Band, Irish Minstrels, Tayside Young Fiddlers, and a James Alexander Tribute.
If you would like to support Hands Up for Trad in their work with Scottish trad music and musicians why not become a friend of Hands Up for Trad. In addition to our high profile events like the Scots Trad Music Awards, we also deliver a less well known, education programme for young people from 8yrs right through to young adults at the start of their careers. Read more here.