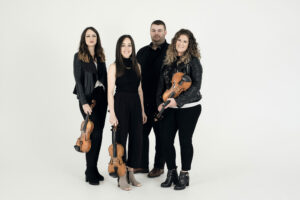 Congratulations to FARA who has been nominated in Album of the Year sponsored by Birnam CD, Folk Band of the Year sponsored by Threads of Sound in the MG ALBA Scots Trad Music Awards 2022. Vote for FARA now!. It's going to be another great night at the MG ALBA Scots Trad Music Awards on Sunday 4th December in Dundee's Caird Hall. Why not join us for a brilliant night of music and awards. Buy a ticket here.
We asked Rory of FARA the following questions.
Tell us about yourself
Fired up and raring to go after a lockdown spent creating hugely popular film project, 'The Orkney Series', Scottish powerhouse quartet FARA unveil their highly anticipated third studio album in 2022. Bursting with brand new self-penned instrumental tracks, and with songs adapted from the words of Orcadian poets, 'Energy Islands' is fuelled by their native Orkney's revolutionary role in renewable energy.
Fusing the talents of three fine Orcadian fiddlers and vocalists – Jeana Leslie, Catriona Price and Kristan Harvey – alongside stand-out Highland pianist and newest member Rory Matheson, FARA have firmly secured their foothold at the forefront of the Scottish folk scene since taking 2014's Orkney Folk Festival by storm. Their unique mix of spell-binding vocals, intricately woven fiddle harmonies and energetic closers, combined with an obvious kinship born in childhood, is sure to delight and entertain audiences wherever they go.
Why are you involved in Scottish music?
We have all grown up surrounded by traditional music – Kristan, Jeana and Catriona being brought up through the rich fiddle traditions of Orkney, and Rory through the music of the West coast in Sutherland. We hope to bring our unique take on the music of Orkney to new audiences around the world.
Any particular career highlights?
We have had a busy year back on the road and it feels great to be back gigging again.
Our most recent highlight was releasing our 3rd studio album 'Energy Islands' along with an album launch tour over September and October.
What are your plans for the future?
We hope to continue touring our new album 'Energy Islands' throughout next year, and look forward to performing around the UK and further afield!
FARA Social Media
Website: https://faramusic.co.uk
Facebook: @FaraOrkney
Twitter: @FaraOrkney
Instagram: @faraorkney
YouTube: @FARA Music
The 2022 MG ALBA Scots Trad Music Awards are back to normal on the 4th December 2022! You will be able to watch it live in person (buy a ticket here),Watch it live in the UK at 9pm (GMT) on BBC ALBA and and around the world here. Bands performing on Sunday 4th December include Elephant Sessions, Fara, Trip, Eryn Rae Trio, The Auldeners, Gordon Shand Scottish Dance Band, Irish Minstrels, Tayside Young Fiddlers, and a James Alexander Tribute.
If you would like to support Hands Up for Trad in their work with Scottish trad music and musicians why not become a friend of Hands Up for Trad. In addition to our high profile events like the Scots Trad Music Awards, we also deliver a less well known, education programme for young people from 8yrs right through to young adults at the start of their careers. Read more here.