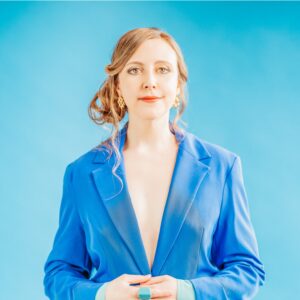 Congratulations to Siobhan Miller who has been nominated in Album of the Year sponsored by Birnam CD in the MG ALBA Scots Trad Music Awards 2022. Vote for Siobhan Miller now!. It's going to be another great night at the MG ALBA Scots Trad Music Awards on Sunday 4th December in Dundee's Caird Hall. Why not join us for a brilliant night of music and awards. Buy a ticket here.
We asked Siobhan of Siobhan Miller the following questions.
Tell us about yourself
I am a singer songwriter based in Glasgow. I brought out my fifth solo album this year called 'Bloom' it is a mixture of some of my favourite traditional and contemporary folk songs. After two years of not being able to play with other musicians or perform live shows I wanted to create something which recaptures the fun, energy and community feeling of festivals and sessions.
I have been touring the UK and internationally for the last ten years.
Why are you involved in Scottish music?
I have been involved in traditional music from a very young age. I have always loved the feeling of being in a room full of musicians and singers all sharing their love for our Scottish traditions. Singing traditional song is very important part of my own identity and I feel very grateful to be part of the musical community which exists in Scotland. I have also been inspired by many singers from the older generation who have passed on their songs to me.
Any particular career highlights?
I have had a very busy year touring with my band and I have loved being able to be back out playing live shows promoting my new album across the UK. Festival highlights this summer include; Skye Live, Orkney Folk Festival, Hebridean Celtic Festival, Dandelion Festival & Tonder Festival.
In December 2019 I loved singing in a show in Boston called 'A Christmas Celtic Sojourn'. Following this I spent five and half weeks touring Australia with my band at the start of the year playing 'The Festival of Small Halls Tour' and various festivals across the country. It was my first time in both of these places and i felt very lucky to have had the opportunity to share my music with people there and work with new musicians from both places.
Other career highlights include curating the opening concert for Celtic Connections celebrating the TMSA'S 50th Anniversary and performing in this years festival as part of Transatlantic Sessions. We played two sold out shows in the Concert Hall in Glasgow followed by a tour south of the border.
Now more than ever I appreciate the opportunity to travel with my music, meeting new people and playing to audiences at home and further a field.
What are your plans for the future?
I am looking forward to a tour of Denmark this month alongside Rura one of my favourite Scottish bands. I am also very much looking forward to live shows next year and hope to be returning to Australia for another tour in February.
I will also be back out on the road next summer with my band playing festivals across the UK.
Siobhan Miller Social Media
Website: https://www.siobhanmiller.com
Facebook: @SiobhanMillerMusic
Twitter: Siobhan_Miller
Instagram: @siobhanjmiller
YouTube: @https://www.youtube.com/channel/UC3NvUoV_Wmck2A41OlGdt5w
The 2022 MG ALBA Scots Trad Music Awards are back to normal on the 4th December 2022! You will be able to watch it live in person (buy a ticket here),Watch it live in the UK at 9pm (GMT) on BBC ALBA and and around the world here. Bands performing on Sunday 4th December include Elephant Sessions, Fara, Trip, Eryn Rae Trio, The Auldeners, Gordon Shand Scottish Dance Band, Irish Minstrels, Tayside Young Fiddlers, and a James Alexander Tribute.
If you would like to support Hands Up for Trad in their work with Scottish trad music and musicians why not become a friend of Hands Up for Trad. In addition to our high profile events like the Scots Trad Music Awards, we also deliver a less well known, education programme for young people from 8yrs right through to young adults at the start of their careers. Read more here.