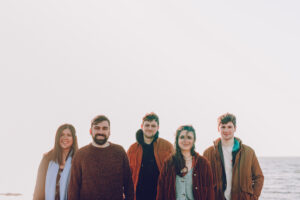 Congratulations to Eabhal who has been nominated in Folk Band of the Year sponsored by Threads of Sound in the MG ALBA Scots Trad Music Awards 2022. Vote for Eabhal now!. It's going to be another great night at the MG ALBA Scots Trad Music Awards on Sunday 4th December in Dundee's Caird Hall. Why not join us for a brilliant night of music and awards. Buy a ticket here.
We asked Jamie of Eabhal the following questions.
Tell us about yourself
Eabhal formed as a band while we were based on the Hebridean island of Uist. Our second album 'Aisling' came out in May 2022 and showcases an array of new arrangements and both Gaelic and English songs. Much of the material came together remotely during the lockdown, and the title of the album Aisling (Gaelic word for dream), is about the band's creative process while putting the album together – combining our musical ideas from a distance.
The album is a culmination of our creative work so far, and it draws heavily on geographical influences. Each track has a strong connection with a place and a time, as well as drawing inspiration from the people we have met throughout our travels as a band.
Why are you involved in Scottish music?
We were all brought up, in different ways, immersed in traditional music and since starting out almost 8 years ago as a band at university we have enjoyed creating and developing music together.
Any particular career highlights?
A big highlight this year was launching and touring our second album Aisling which saw us go to an array of lovely places including Glenelg, Ardgour and Tobermory. Other highlights include performing at World Music Asia in Shanghai and shows in the US in 2018 before the lockdown
What are your plans for the future?
Eabhal are about to enter a new phase as our longtime piper founder member Hamish is emigrating to Canada. We are sad to see him go but excited to see what the future holds. Album 3 is on the cards!
Eabhal Social Media
Website: https://www.eabhal.com
Facebook: @eabhalmusic
Twitter: @eabhalmusic
Instagram: @eabhalmusic
The 2022 MG ALBA Scots Trad Music Awards are back to normal on the 4th December 2022! You will be able to watch it live in person (buy a ticket here),Watch it live in the UK at 9pm (GMT) on BBC ALBA and and around the world here. Bands performing on Sunday 4th December include Elephant Sessions, Fara, Trip, Eryn Rae Trio, The Auldeners, Gordon Shand Scottish Dance Band, Irish Minstrels, Tayside Young Fiddlers, and a James Alexander Tribute.
If you would like to support Hands Up for Trad in their work with Scottish trad music and musicians why not become a friend of Hands Up for Trad. In addition to our high profile events like the Scots Trad Music Awards, we also deliver a less well known, education programme for young people from 8yrs right through to young adults at the start of their careers. Read more here.