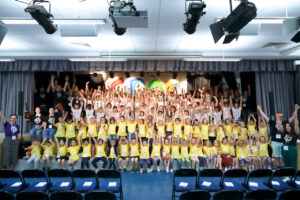 Congratulations to Seachdain na Fèise // Fèis Week 2022 (Fèis Phàislig) who has been nominated in Community Project of the Year sponsored by Innes and Campbell Communications in the MG ALBA Scots Trad Music Awards 2022. Vote for Seachdain na Fèise // Fèis Week 2022 (Fèis Phàislig) now!. It's going to be another great night at the MG ALBA Scots Trad Music Awards on Sunday 4th December in Dundee's Caird Hall. Why not join us for a brilliant night of music and awards. Buy a ticket here.
We asked Grant of Seachdain na Fèise // Fèis Week 2022 (Fèis Phàislig) the following questions.
Tell us about yourself
Fèis Phàislig (Gaelic for 'Paisley Festival') is a community arts organisation, established in 2014 by a group of local musicians and volunteers. The aim of the Fèis is to provide traditional music tuition and experiences for young people in Renfrewshire, increasing their awareness and understanding of the intangible cultural heritage of Scotland. Our year-round programme of events reached over 4500 young people in 2019 (pre-pandemic) and includes: Fèis Week; Weekly Lessons; Gaelic Choir; YMI sessions; Ceilidh Trail.
Why are you involved in Scottish music?
Our aim is to inspire the next generation of musicians to play, perform and experience traditional music and Gaelic. This is achieved through our calendar of events and opportunities for young people aged 5-25. We believe in positive and inspiring experiences for young people at all stages, from complete beginners through to more advanced players, and work with some of Scotland's best traditional musicians and tutors to make this happen.
Any particular career highlights?
The Fèis has grown significantly in its relatively short time as an organisation. We formed in 2014 to run our first ever Fèis Week event with around 60 young people. In 2022, our Fèis Week welcomed over 150 young people for 4 days of music, song, dance, drama, filmmaking and much more. It has been hugely rewarding for our team to see opportunities like this grow within the area and to be so well-received by the participants and wider community engaging with us.
What are your plans for the future?
Our Fèis Week grows every year and we can't wait to be back next summer – July 18th-21st. Our team are continually working on ways to improve and build on the success of previous years including working with new tutors and subject choices. We can't wait to see what the future holds for our Fèis Week event!
Seachdain na Fèise // Fèis Week 2022 (Fèis Phàislig) Social Media
Website: https://feisphaislig.com
Facebook: @feisphaislig
Twitter: @feisphaislig
Instagram: @feisphaislig
YouTube: @feisphaislig
The 2022 MG ALBA Scots Trad Music Awards are back to normal on the 4th December 2022! You will be able to watch it live in person (buy a ticket here),Watch it live in the UK at 9pm (GMT) on BBC ALBA and and around the world here. Bands performing on Sunday 4th December include Elephant Sessions, Fara, Trip, Eryn Rae Trio, The Auldeners, Gordon Shand Scottish Dance Band, Irish Minstrels, Tayside Young Fiddlers, and a James Alexander Tribute.
If you would like to support Hands Up for Trad in their work with Scottish trad music and musicians why not become a friend of Hands Up for Trad. In addition to our high profile events like the Scots Trad Music Awards, we also deliver a less well known, education programme for young people from 8yrs right through to young adults at the start of their careers. Read more here.