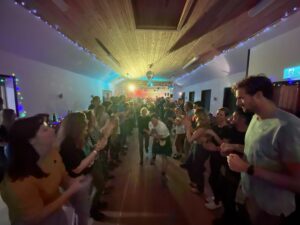 Congratulations to Knoydart Community Hall who has been nominated in Venue of the Year sponsored by Musicians' Union in the MG ALBA Scots Trad Music Awards 2022. Vote for Knoydart Community Hall now!. It's going to be another great night at the MG ALBA Scots Trad Music Awards on Sunday 4th December in Dundee's Caird Hall. Why not join us for a brilliant night of music and awards. Buy a ticket here.
We asked Jackie of Knoydart Community Hall the following questions.
Tell us about yourself
Knoydart Community Hall really is a "hall for all" and even though we are remote (seven miles up a sea loch with no roads in) we have a huge appetite for traditional music. We do go the extra (nautical) mile supporting all musicians, hosting music retreats and events, nurturing young talent from the high school and running workshops and music sessions throughout every month of the Year. Events are run entirely by volunteers and a small dedicated committee of six.
We set about crowdfunding and fundraising to completely refurbish our local hall to make it fit for purpose. Musicians from near and far helped to spread the word, wrote and donated a tune (Ryan Young), sponsored fundraiser gigs (The Poozies) and helped us raise the profile of our campaign #loveknoydarthall. The oil on the hall's new oak floor was just drying when the pandemic broke out and we had to cancel our opening gig with Shooglenifty, but as soon as the 2m rule allowed music to commence our doors flew open. We had to get the music back. The refurbished Knoydart Hall hosts a new stage big enough to take a band the size of Shoogles, 2 glitter balls (we like a party!), a new to us sound system purchased from Mr McFalls Orchestra, new dynamics, a lighting rig, card readers, a new till and a shiny new bar.
Being a community owned asset, the Hall works in total harmony with our newly acquired community pub, The Old Forge, so when gigs are on our pub shuts a little earlier to make sure the musicians and the gigs are all fully supported. At New Year we traditionally hold a 2 day event which includes the "Big Session on the 1st" which this year will start off with all the musicians playing day two in the hall along with everyone else and the whole session moving down to the The Old Forge Community Pub at 5pm, to make sure that the pub benefits from the local music too. We really are all about the music and our local young folk are hugely encouraged, being paid a gig fee to support bigger events and giving them the experience of performing and the excitement and encouragement to play – they are after all our musicians of the future. I guess you could say at Knoydart Hall we put the the "rad in Trad"
Why are you involved in Scottish music?
Totally for the youngsters. On Knoydart our youngsters (youngsters is a flexible age range here! and stretch from 1- 90) and our young players and youth would have to travel far, by boat and overnight accommodation to play, listen and dance, so we really have to make this venue happen, to keep them here. It's so cool to see Knoydart Hall being a happening venue where folk from Lochaber, Glasgow, Edinburgh and further afield head to Knoydart as remote as it is, for their gig fix. It makes it all worthwhile. It's also the satisfaction of seeing the Hall on the circuit for new and upcoming talent as much as the crowd pulling names and being able to be part of the journey for new musicians and giving them the chance to shine alongside the more established players. We also get to experience new music and line-ups right here on Knoydart!
Any particular career highlights?
Shooglenifty for our opening gig is up there…the excitement of finally launching our new hall coupled with the happy reunions with all our friends and supporters after the rollercoaster of the pandemic made it an extra special event. Actually, the first socially distanced seated gigs 2 meters apart with facemasks and a total maximum audience allowed of just 15 to comply with the regs during covid, bizarrely was also a highlight. Opening as soon as we were allowed to, was all about kickstarting confidence and getting back to music asap. It was one of the hardest gigs to hold balancing community safety, supporting local musicians to play after so long and knowing folks might not feel quite ready for being in company, but we just had to. The line-up of the many bands and musicians that were booked to play throughout 2020 were all rescheduled to make sure no-one missed out, and the 2020 New Year gig which was rescheduled to 2021 only to be thwarted again at the eleventh hour is going ahead this year…we can't wait! There have also been so many incredible musicians through our doors since reopening with our full line up this year its safe to say this whole year of music has been a highlight for us all.
What are your plans for the future?
To keep on keeping on! Nurturing our young players, supporting our musicians and keeping the glitter ball spinning on Knoydart.
Knoydart Community Hall Social Media
Website: https://www.knoydarthall.com/
Facebook: @knoydarthall
Twitter: @knoydarthall
The 2022 MG ALBA Scots Trad Music Awards are back to normal on the 4th December 2022! You will be able to watch it live in person (buy a ticket here),Watch it live in the UK at 9pm (GMT) on BBC ALBA and and around the world here. Bands performing on Sunday 4th December include Elephant Sessions, Fara, Trip, Eryn Rae Trio, The Auldeners, Gordon Shand Scottish Dance Band, Irish Minstrels, Tayside Young Fiddlers, and a James Alexander Tribute.
If you would like to support Hands Up for Trad in their work with Scottish trad music and musicians why not become a friend of Hands Up for Trad. In addition to our high profile events like the Scots Trad Music Awards, we also deliver a less well known, education programme for young people from 8yrs right through to young adults at the start of their careers. Read more here.