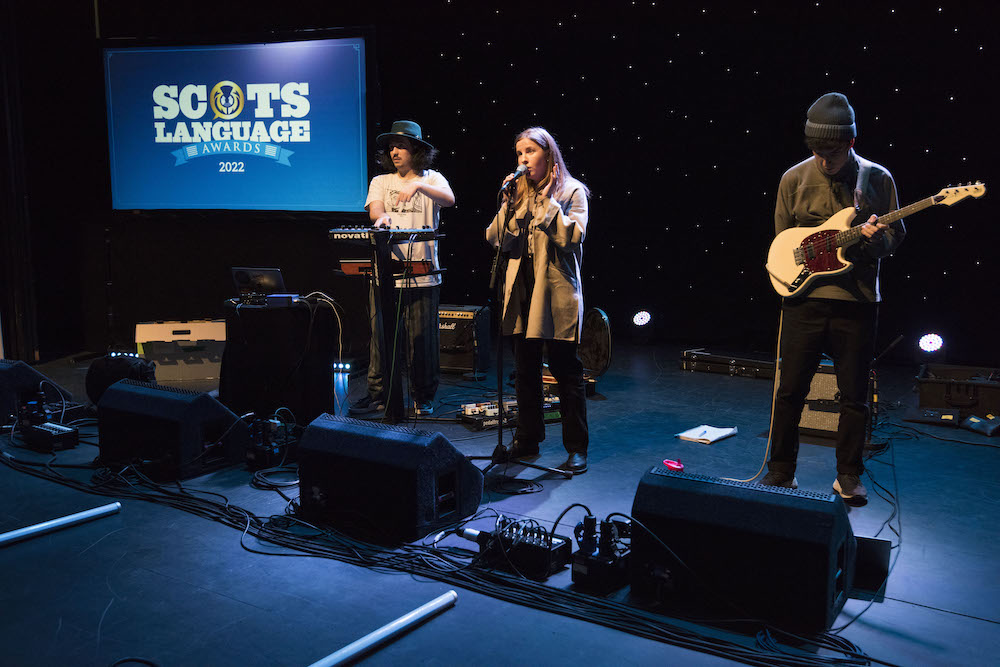 The nominees have been announced for the Scots Language Awards 2023, with over 60 nominees in the running across 12 categories at the annual awards ceremony, which will showcase the very best of Scots language and culture.
The awards, which were first started in 2019, celebrate the importance of Scots language within arts and culture but also within daily life, education, and business, and will take place at Johnstone Town Hall, in partnership with Renfrewshire Council, on Saturday 16th September.
Voting for this year's Scots Language Awards will be open from Monday 28th August to Sunday 10th September 2023.
The nominees are:
Scots Writer o the Year, sponsored by National Library of Scotland
Scots Media Person o the Year
Scots Bairns Book o the Year, sponsored by Scottish Government
Scots Speaker o the Year
Susi Briggs
Tony Bonning
Fiona Davidson
Scots Teacher o the Year, sponsored by Scottish Qualifications Authority
Jane Veitch – Monymusk Primary, Aberdeenshire
Rebecca Logan – Banff Academy
Claire Yeoman, Seaview Primary, Monifieth
Scott Shields – Craigiebarns Primary, Dundee
Brian McLaughlin – St Cadoc's Primary School, Newton Mearns
Scots School o the Year, sponsored by Itchy Coo / Black & White Publishing
Monymusk Primary School, Inverurie
Lossiemouth High School
Braeview Academy, Dundee
Arbroath High School
Jedburgh Grammar
Fernhill School, Glasgow
Millburn Academy, Inverness
James Gillespie's High School, Edinburgh
Newton Primary, Ayr
Fossoway Primary School, Kinross
St Machar Academy, Aberdeen
Kirkcudbright Academy
Mary Russell School, Paisley
Ralston Primary School, Paisley
Scots Project o the Year
Lure o the Leid podcast – TRACS (Tradeitional Airts Cultur Scotland, in partnership with the Scottish Storytelling Forum
Speakin' Weird – Orla Kelly, Aberdeen Writers
Mearns Writers Doric Language project
Aberdeen Student Show – 'Ayetanic'
Scottish National Portrait Gallery, Scots interpretation, James's People Display
The Linen Hall, Belfast
The Traditional Singing Weekend at Cullerlie
Future of Scots Symposium, Oor Vyce, Glasgae Uni
Historic Scotland Jarslhof
Scots Book o the Year, sponsored by Scottish Book Trust
Scots Performer o the Year, sponsored by TRACS
Scots Business o the Year
Luath Press
Orbs Bookshop
Scottish Scrievers Centre
Upperkrust Sandwich Shop
J.G. Ross the Baker
The highly-regarded Janet Paisley Services to Scots Award will be presented by Alistair Heather and Taylor Dyson and the Young Scots Writer o the Year award will be presented on the night.
There will be a host of incredible entertainment on display, including a recital from Renfrewshire's poet laureate poet Shaun Moore, who was appointed as the region's Tannahill Makar last year, talks from esteemed Scottish writers Cat Cochrane and Shane Strachan, and musical performances from celebrated brother duo Euan and Lewis McLaughlin, and talented folk singer Iona Fyfe.
Scotland's traditional culture, music and arts organisation Hands Up For Trad organise the annual event, and organiser Simon Thoumire said: "We ur delichtit tae let ye ken the number o nominees fir the Scots Leid Awards submitit ower aa the sindrie categories haes bin jist grand! An its bin wunnerfu tae lairn aboot aa the fowk, some names we already kent, ithers new tae us, ettlin tae mak shuir oor braw Scots leid steys in guid hert. It haes nivver been mair importint tae acknowledge the fowk whaes wirk is keeping the leid tae the fore baith in thir daily lives an in its cultur, music an wirds. Sae mony nominations tae mak ye prood, an submitit as weel fae aa pairts o Scotland and beyond.
"Aince votin stairts, its ower tae the public tae mak thir chuisins. The winners wull be anooncit at a ceremony in Johnstone Toon Ha' Johnstone Renfrewshire oan Seturday 16th September. It wull be a haurd joab tae chuise fae sae mony amazin nominees. Sae mak shuir ye get yer votes in!"
Renfrewshire's Provost, Lorraine Cameron, said: "The Scots Language Awards is a fantastic celebration of Scots heritage and culture and I'm looking forward to welcoming the event to Johnstone Town Hall in September.
"It's especially exciting to see some of our local performers and schools listed among the nominees. This shows how much interest in our Scots heritage has grown and by hosting events like this and celebrating Scots culture that interest will surely grow."
Scots language has long been used by authors, spoken in our top films, and is experiencing a contemporary year on year resurgence via social media including a huge new audience of all ages on TikTok, as communities connect and realise their heritage, led by the public, influencers, and media alike.
Voting for the Scots Language Awards will open on 28th August and votes can be cast at www.scotslanguageawards.com.
Tickets for the Scots Language Awards are available here: https://renfrewshireboxoffice.ticketsolve.com/ticketbooth/shows/11736415
Follow these topics: News, Newsletter, Scots