Latest Podcast!
Welcome to the 200th edition of the Foot Stompin' Podcast! It's taken me a while to get here but it feels good. I wish I could remember the first one! As usual we have some great music today including Martyn Bennett, Heisk, Lauren MacColl, Jim Malcom and much more! If you enjoy these podcasts please support our Patreon at www.patreon.com/handsupfortrad Hardland by Martyn … [Read More...]
Featured archive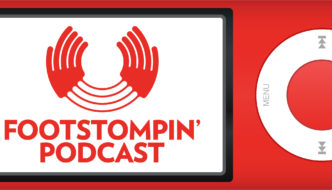 Here's our mid April 2010 Foot Stompin' Free Scottish Music Podcast. Featuring Claire Mann and Aaron Jones, The Sangsters, Bobby Brown and Scottish … [Read More...]
Other Scottish podcasts
Great to be back at Celtic Connections Festival again, chatting to special guests in front of a highly discerning audience in the fabulous Macintosh at the Willow … [Read More...]
More podcasts!
Welcome to the 200th edition of the Foot Stompin' Podcast! It's taken me a while to get here but it feels good. I wish I could remember the first one! As usual we have some great music today including Martyn Bennett, Heisk, Lauren MacColl, Jim Malcom and much … [Read More...]