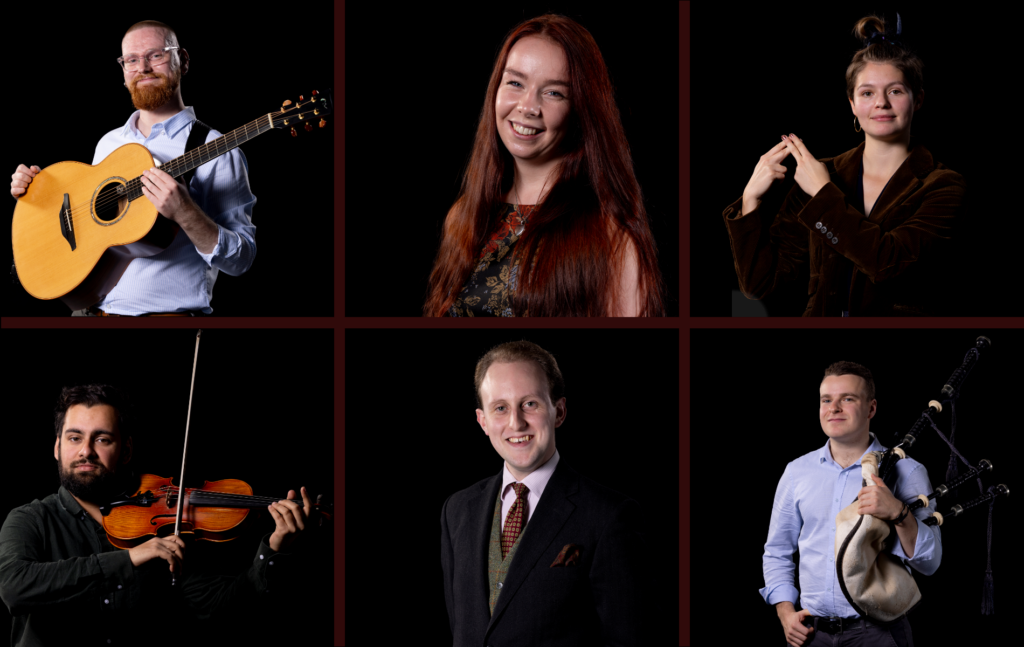 Congratulations to Calum McIlroy, Ella Munro, Evie Waddell, John Dew, Matt Tighe and Ruairidh Iain Gray who have made it through to the finals of BBC Radio Scotland Young Traditional Musician Award 2024. It was a brilliant afternoon of music and all the 12 semi-finalists performed brilliantly. Read about them here.
Each semi-finalist performed for 10 minutes and were accompanied by Jenn Butterworth on guitar and Jennifer Austin on piano. You can listen to the semi-finals on BBC Radio Scotland's Travelling Folk this Thursday 19th October at 8pm and afterwords on BBC Sounds. It will also be broadcast on BBC ALBA.
The finals will be held on the 4th February 2024 in the City Halls as part of Celtic Connections Festival. It would be great if you could come along and support the finalists. You can buy tickets here.
Find out more about the BBC Radio Scotland Young Traditional Musician Award at www.bbc.co.uk/youngtrad
Calum McIlroy, 26, Guitar, Mandolin & Voice, Aberdeenshire
The thing I like most about traditional music is the social bonds you are able to form almost immediately with other musicians, and I don't think that can be found in other types of music. I have been very fortunate over the last few years to have the opportunity to play with a wide variety of musicians. I first learned about traditional music in my school ceilidh band in Aberdeenshire, and after I left school, I went on to play with the North East Folk Collective and took part in the Fèis Rois Ceilidh Trail in 2016/2017. After finishing my diploma in music in Aberdeen, I moved to Glasgow to study on the BMus Traditional Music Course at the Royal Conservatoire of Scotland. There, I was tutored in guitar by Kevin MacKenzie, Jenn Butterworth, Innes Watson, and Ali Hutton; and in Scots song by Rod Paterson and Fiona Hunter. Since graduating, I have been very busy tutoring through various organisations, such as Fèisean nan Gàidheal and Falkirk Traditional Music Project. I have continued to play with my own trio with Megan MacDonald (accordion) and Ruairidh Gollan (fiddle), and with many other artists and bands, including: Chloë Bryce; Mike Vass (w/ Tom Callister, Mairearad Green and Conal McDonagh); Ailie Robertson; Gráinne Brady; Anna Massie Ian Carr, and Tim Edey; TRYST; and Ross Ainslie and Ali Hutton. I am at a stage in my career where I would like to make more time for my own music, and I would like to perform more as a soloist or in my own outfit(s).
Ella Munro, 26, Voice, Skye and Glasgow
I am a folk singer from the Isle of Skye but have been living in Glasgow for a number of years now. I have loved traditional music since I was in early primary where I learned clarsach and fiddle, which was a door into the lovely world of traditional music. I then began singing towards the end of primary school and was lucky enough to gain a place at the National Centre of Excellence in Traditional Music. Here, I was taught by Mick West. Since arriving in Glasgow, I have experienced the true breadth of traditional and folk music and was taught by Fiona Hunter whilst at the Conservatoire. In 2017, I was fortunate enough to participate in the BBC Radio Scotland Young Traditional Musician of the Year finals. I have also been very fortunate to perform and attend many of Scotland's greatest folk clubs, with a real highlight being the opportunity to support Archie Fisher at Stirling Folk Club in 2016. I am heavily influenced by the singers Dick Gaughan, Michael Marra, Archie Fisher, and Adam MacNaughton. I am also interested in finding songs in the traditional repertoire in which the female protagonist doesn't have an unfortunate end, as this is regrettably very common. I have always loved singing but I am particularly drawn to folk and traditional music because of the rich storytelling within the songs. I have been lucky enough to have been taught by inspiring and willing teachers who have shared their repertoire and equipped me to find more songs and make them my own.
Evie Waddell, 25, Voice, step dance percussion, Stirling
I grew up in Stirling, had a Gaelic medium education and have always been surrounded by music and musical friendships. I have been so lucky that Jo Miller is a friend of the family, and my mentor/teacher from an early age, and part of her intergenerational Riverside Music Project. I graduated with a BMus in Traditional Music at the RCS in 2021. In 2020 I was cast in the production of 'MAIM' by Theatre Gu Leor featuring Whyte, with a focus on expressing myself through multimedia musical and corporeal 'voices': Gaelic song, British Sign Language, fiddle, clarsach and dance. Studying contemporary dance at The Space, Dundee has also greatly informed my development as a musician. Singers that have influenced me have been Ivor Culter, Kathleen MacInnes, Lisa O'Neill and Rhiannon Giddens. Notable composition projects include Celtic Connections 'Rejuvenation' in 2022 and 'Bogaidh' commissioned by the National Poetry Library. I was also Danny Kyle Open Stage finalist winner in 2023. This year my own show "Failte Gu BSL" has been touring. The show explores experiences of creative and political connection across isolation – as communities, as individuals and as diverse cultural Scots and and Gaels. It combines song, sign language, puirt a beul, step dance and percussion. My deaf music experience has driven my desire for different stories and sounds to be heard and for society to understand that music is an important experience for many in the D/deaf community, and fundamental to accessing a Scottish identity. I am excited to bring something fresh and visual to this competition.
John Dew, 25, Bagpipes, Perthshire
My name is John Dew and I am from Perthshire. I learned bagpipes through instruction at school and then joined the Vale of Atholl Pipe Band in Pitlochry. I am interested in traditional music because I love the sound of the folk instruments, culture and language and it was through pipe bands that I discovered this wider genre of Scottish Music and Culture. The tunes and song all have a lovely modal feel as well as a certain liveliness which you can't find anywhere else. I learned the bagpipes at school from various teachers including Anne Spalding, Cameron Drummond and Craig Muirhead. Musical experience includes various performances highland games, festivals such as Piping Live, Celtic Connections, Monterey Scottish Games and Festival in California and Celtic Colours in Canada as well as performing regularly with Inveraray and District Pipe Band. I have also performed for various members of Royalty and High Society. I am influenced by artists such as Dreamers' Circus, Breabach, Imar, Chris Stout and Catriona McKay, Daimh and Hamish Napier. Notable performances include 'A Night in That Land' by Inveraray and district pipe band, Phil Cunningham's 'Iona Suite', Hamish Napier's 'The Railway', 'Rejuvenation' commission from Celtic Connections 2022, 'Ur: Future of Our Past' band from The Royal Conservatoire of Scotland performances at Celtic Colours and a series of other concerts and laterally launching my own debut album 'Mackerel Sky' in 2021. I currently live in Edinburgh where I teach bagpipes at George Watson's College and completing my 9th season with Inveraray and District Pipe Band.
Matt Tighe, 27, Fiddle, London
I grew up on London's traditional music scene and studied classical violin at Trinity Laban Conservatoire of Music. I was initially taught traditional music by Irish music luminaries Dermot Crehan and Brendan Mulkere and I've been mentored by the eminent Brian McNeill. I released a critically acclaimed album with the Greentrax label which won Fatea Magazine's album of the year award in 2017 and was described as, 'Stunning', by Blues and Roots Radio. This has led to gigs at Celtic Connections, Broadstairs Folk Week, Wickham Folk Festival and Cambridge Folk Festival. I also work with Live Music Now Scotland and love using music to engage with people in an ASN setting (additional support needs). I big part of my fiddle playing is informed by the Alexander Technique which I'm currently training to teach. I moved up to Glasgow after lockdown and love the vibrant musical community here!
Ruairidh Iain Gray, 21, Voice, South Uist
I have, all my life been submersed in the world of Gàidhlig music. Coming from a Gàidhlig speaking household on the Island of South Uist and learning English in later childhood, it seemed clear from a young age that music was to be my life's work. I currently attend the Royal Conservatoire of Scotland under the tutelage of Miss Iseabail T. MacDonald of South Uist and Glasgow. During my life I have been immensely privileged to have learned from the greats such as the late Norman MacLean, Dr Kenna Campbell MBE, Rona Lightfoot and many others. I have also been fortunate enough to travel to various parts of the world to perform. Stages such as the Bolshoi Theatre in Moscow would certainly be a highlight! However, my favourite remains St Peter's Church Hall in Daliburgh, South Uist, the village in which I grew up. In 2022, I won both the Bònn Òr a' Chomainn and the Bonn Òir an t-Sèann Nòis at the Royal National Mòd in Perth, becoming the second only person ever to have won the two medals in the same year. Later on that year I was voted the "MG ALBA Gaelic Singer of the Year" at the MG ALBA Scots Trad Music Awards. I have many varied and unusual musical tastes and influences. From Bing Crosby, Rachmaninov, the late Archibald Grant and Norman MacLean. Rather an unusual mixture!
Follow these topics: News, Newsletter, Young Trad