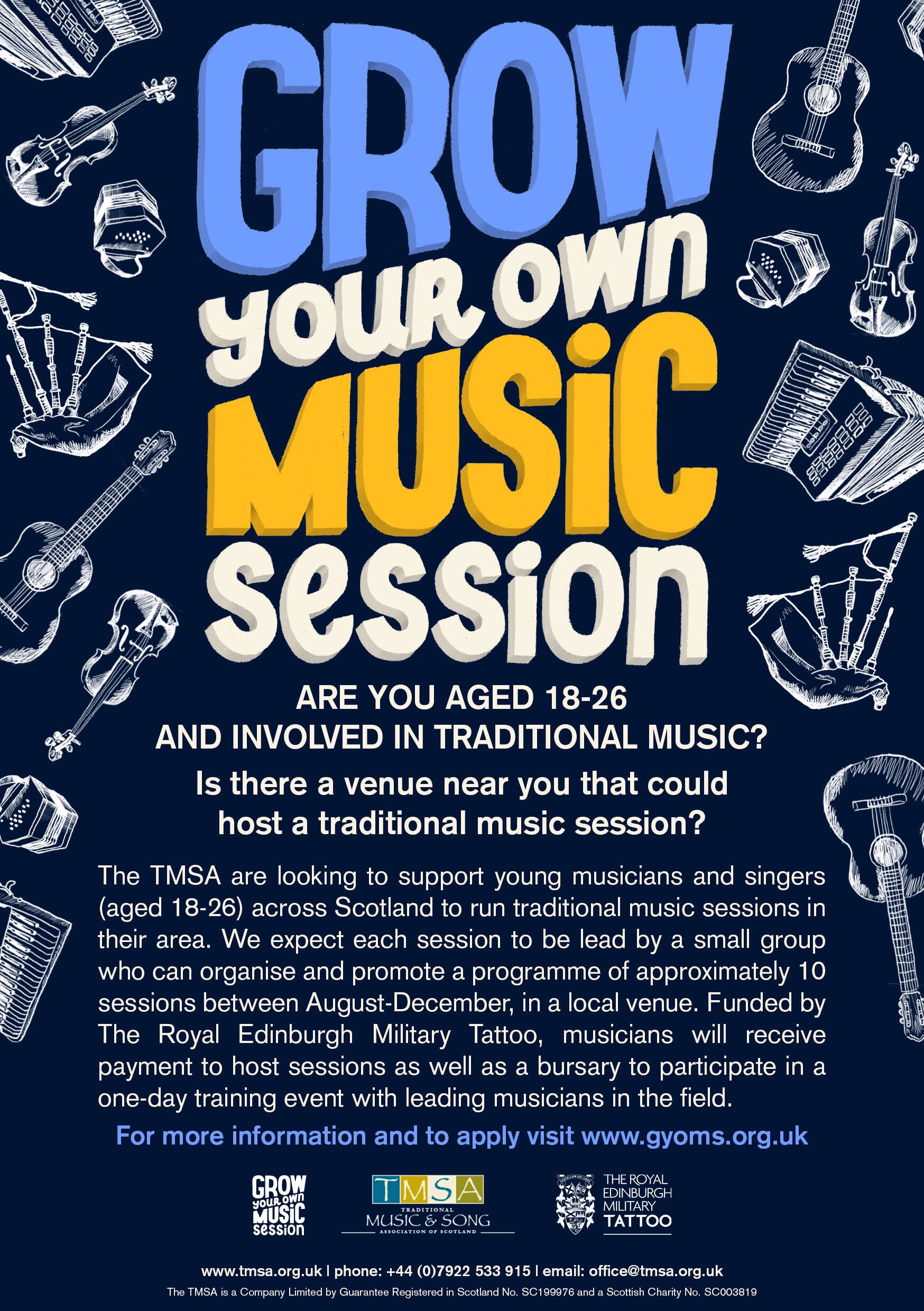 Young musicians will have the opportunity to grow a programme of traditional music sessions in their local area.
The Traditional Music & Song Association of Scotland (TMSA) is looking for groups of three individuals (aged 18-26) who can organise, promote and lead sessions between August-December 2018 in a local venue.
Thanks to funding from The Royal Edinburgh Military Tattoo Youth Talent Development Fund, which is being administered by Creative Scotland, musicians will receive support to host approximately ten sessions in their area as well as a bursary to participate in a one-day training event with leading musicians in the field.
TMSA Convener, Fiona Campbell, said "The 'Grow Your Own Music Sessions' will be acoustic, free and open to all, helping celebrate Scotland's Year of Young People. The young musicians will be encouraging others, especially other young musicians, singers and, dancers to join in, as we want as many people as possible to experience the fun of traditional music and song across the country."
Applications to be part of the programme close on Tuesday 29 May through the dedicated project website – www.gyoms.org.uk
If you have any queries or are a venue that would like to be considered by young musicians as a suitable location for a session, please contact the GYOMS Project Manager – Grant McFarlane – grantmcf@me.com or 07595 175 099.
ENDS
For further information on the project, or for accompanying images, please contact the Grow Your Own Music Session (GYOMS) Project Manager, Grant McFarlane – 07595 175 099 or grantmcf@me.com.
Notes to Editors:
1. The TMSA will be running a national session programme for the Year of Young People – providing the opportunity for 18-26 year-olds with existing skills and abilities to try something new across traditional music and dance. We expect 30 young musicians will run the equivalent of 100 sessions between August – December and an online resource to setting up a session created which can be used by others in the future. The expectation is that these sessions have the potential to continue beyond the end of the project.
2. The Traditional Music & Song Association of Scotland (TMSA), set up in 1966, is a membership organisation whose core aim is to foster and promote Scotland's unique musical traditions. Members include music enthusiasts, amateur and professional performers, tutors, and academics. The TMSA encourages both widespread popular participation and individual artistic excellence. Its branches provide opportunities for universal participation by running festivals, ceilidhs, concerts, workshops and competitions. The branches sustain the specific cultural traditions of their area, as well as those of Scotland generally as grassroots participation in traditional music and song involving all parts of the traditional community is fundamental to the continued authentic voice of professional performers and to the very cultural identity of Scotland itself. The TMSA also creates an annual hard copy traditional music Event Calendar supported by website listings and has run a number of National Sessions Programmes – the most recent for Homecoming Scotland 2014. The TMSA celebrated its 50th anniversary in 2016. More details at www.tmsa.org.uk
3. The Royal Edinburgh Military Tattoo:
• The Tattoo has donated over £10M to Services and Arts organisations since 1950
• The Royal Edinburgh Military Tattoo first performed in 1950 and is 68 years old this year. The event has sold out for the last 19 consecutive years.
• The Tattoo is performed to a live audience of 220,000 annually on the Esplanade of Edinburgh Castle with a further global TV audience of +100M
• Performers from 50 countries have taken part
• In 2010, the event was renamed The Royal Edinburgh Military Tattoo after Her Majesty the Queen bestowed the Royal title in honour of its 60th birthday
• HRH The Princess Royal, Princess Anne, is the Patron of The Royal Edinburgh Military Tattoo
• The Tattoo generates £77M annually for the Scottish economy with a further £30M in fulltime employment equivalent
• The Tattoo has performed overseas on four occasions, most recently in Australia and New Zealand in February 2016. Over 240,000 tickets were sold and the shows delivered a combined estimate of £50M gross economic impact to the cities of Melbourne and Wellington
• The Tattoo has embarked on a course of a Strategy for Growth with an ambition to become a global events and production company, and double turnover by 2025.
More details at: www.edintattoo.co.uk
4. Creative Scotland is the public body that supports the arts, screen and creative industries across all parts of Scotland on behalf of everyone who lives, works or visits here.  We enable people and organisations to work in and experience the arts, screen and creative industries in Scotland by helping others to develop great ideas and bring them to life.  We distribute funding provided by the Scottish Government and the National Lottery. For further information about Creative Scotland please visit www.creativescotland.com.  Follow us @creativescots and www.facebook.com/CreativeScotland
Follow these topics: News, Newsletter