This year's Trad Talk focuses on the work that the Traditional Music Forum does behind the scenes in music education, mentoring, Europe, community development and cultural advocacy. Short talks will give an insight into the networks that the TMF contributes to and which support the work of a wider Scottish network of trad music organisations and individuals. With major organisational changes expected in the next couple of years, there will also be a chance for you to have your say on where you feel the TMF's priorities should lie in future.
Speakers: John Wallace (Music Education Partnership Group); Jo Miller (TradMentor); Nod Knowles (European Folk Network); Brian Ó hEadhra (North Atlantic Song Conference); Angus Hardie (Scottish Community Alliance); Jennifer Hunter (Culture Counts); Simon McKerrell.
The day will also feature lunch, live music and the TMF's Annual General Meeting, which will include the chair's report on activities over the past year. This event is free but you must register in advance for both in-person and online.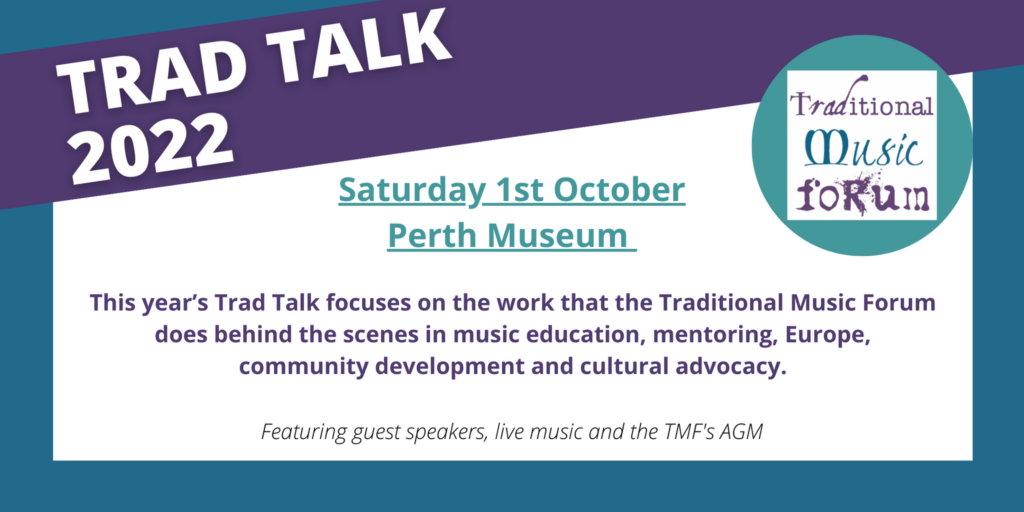 Follow these topics: News, Newsletter