Hands Up for Trad's Trad Music Spotlight is a monthly feature on a band or solo artist. It was first launched in February 2015 and features musicians who are working in the trad scene – both in Scotland and around the world. We asked Tina Jordan Rees a few questions.
What's happening?
I have been very busy over March and April recording my 4th Irish dance music album – Féistastic 4! The album comprises 19 tracks and 50 tunes including 21 original compositions by myself.
I released Féistastic in 2012, Féistastic 2 in 2013 and Féistastic 3 in 2017 so I thought why not make Féistastic 4? It's been hard work composing all the new tunes for F4, learning new tunes, making chord charts, coming up with arrangements, in between my work as an instrumental tutor, working for the Traditional Music Forum, and running sessions in the Lismore Bar with Gráinne Brady, but I've had a great time and I'm really proud of what I've managed to achieve.
I've been recording the album with Barry Reid (Spad) in his home studio. I worked with Spad on Féistastic 3 and he also recorded a custom Irish dance music track for me which was used at the 2018 CLRG World Irish Dancing Championships. He's been fantastic to work with on the Féistastic albums as he's great at helping to create drum tracks and gives friendly input too. I highly recommend working with Spad on any recording you have!
Féistastic 4 has tracks at specific speeds for beginners and championship dancers alike. I like to include a special last track on the Féistastic albums and I'm very chuffed with what I've come up with for F4. It's a display track – dance schools all over the globe often put on public performances and this is the perfect fun track for that occasion. It includes 4 of my own new compositions and I had a great time arranging it as it really is a show track.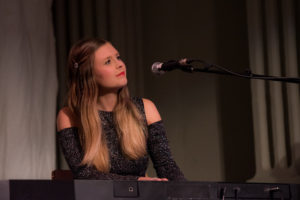 https://tinajordanrees.bandcamp.com
What's next for you?
I finished recording Féistastic 4 last week and I have been listening to the first mixes to make sure all the levels are correct. Once I'm happy that nothing needs changing, Spad will be able to master the album to finalise it. I'm hoping the album will be out by the end of April!
The album will be available for download and streaming only – I'm not making any physical copies as I still have thousands of Féistastic and Féistastic 2 in my mum and dad's garage (sorry, mum and dad!). You'll be able to get it from my website, Bandcamp, iTunes, Spotify, etc.
Check my website, Facebook, Twitter and Instagram pages for updates on the release of Féistastic 4. There are also a couple of sneak previews of tracks up on the social media pages already.
There is still time to pre-order Féistastic 4 for a discounted price! You can also name one of my new compositions which will be on it. Check out the Féistastic 4 page on my website for how to do this.
If you're a fan of Irish dance music then check out the podcast I do – The Irish Dance Music Podcast – which is available for free on iTunes, Stitcher, Spotify, etc.
https://soundcloud.com/tina-jordan-rees
Read more about Tina Jordan Rees at their website http://www.tinajordanrees.com
Follow these topics: News, Newsletter, Spotlight