Hands Up for Trad's Trad Music Spotlight is a monthly feature on a band or solo artist. It was first launched in February 2015 and features musicians who are working in the trad scene – both in Scotland and around the world. We asked Elephant Sessions a few questions.
What's happening?
We are about to release our second studio album 'All We Have Is Now' on May 19th with a full UK tour to support it in June before we hit the festivals in the U.K. and Europe in July and August, we are really excited to get back out there and bring our music to some new places!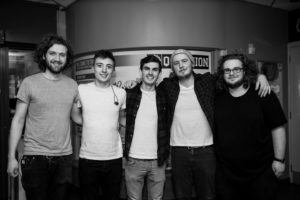 When was the band formed?
The band was formed 5 years ago in a shed in Loch Ussie near Dingwall. Just 5 pals with similar musical ideas that liked to make music and drink beer – 5 years down the line not much has changed! We all owe a lot to the Fèisean movement, we all came through it as youngsters and it's an amazing thing!
What excites you about performing Scottish music?
I think at the moment it's a particularly exciting time to be part of it all. So much talent and great music to be inspired by. I think what excites us the most is the opportunities that playing Scottish music has given us! I think we are very lucky in this country that we have such a strong tradition.
What's next for you?
Next year we have plans to take our music further afield which we are really excited about, at the minute we are just looking forward to this summer and the fun that it will hopefully bring!
Read more about Elephant Sessions at their website http://www.elephantsessions.com
Follow these topics: News, Newsletter, Spotlight