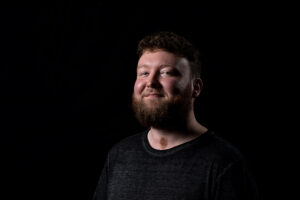 Tinto Summer School will be happening 3-8th July 2023 in the fabulous Wiston Lodge and we would love to see you there! This is our 23rd year of Tinto and it is always a special time making music and hanging out with (and making new) friends. You can find out more by visiting here.
Every year we have brilliant tutors to teach music and we thought you would like to find out more about them.
Michael Biggins
Michael Biggins, a highly talented multi-instrumentalist hailing from Newcastle-Upon-Tyne, has made his mark on the traditional music scene in Glasgow. He is a member of several bands, including TRIP, The Canny Band, Tom McConville, and Ross Couper, and is an ardent fan of traditional music.
Michael's love for music began early in life when he became enamored with the piano. Despite knowing nothing about it, he pleaded with his school teachers to let him play. Eventually, his cousins gifted him a small keyboard when he was 10 or 11, and he found a piano teacher in his village. As he was already learning the piano, he also played the tuba in school, as they needed a tuba player in the school band.
Michael recently graduated from The Royal Conservatoire of Scotland in Glasgow under the tutelage of Professor Sinae Lee on piano. Prior to this, he studied at Chetham's School of Music in Manchester where he studied with Graham Caskie. Michael also studied with respected pianists Eileen Bown and Jean Armstrong who are based in Newcastle.
In 2021, Michael won the prestigious BBC Radio Scotland Young Traditional Musician Award with a stellar performance. He had considered entering for a couple of years, but lockdown provided the final push. The show had technical difficulties, with a small electrical fire in the BBC building where it was being recorded, causing them to spend a lot of time standing outside in the cold! Michael even mentally resigned himself to the show's cancellation. However, after winning, as it was in the middle of lockdown, he celebrated by going home and playing his Xbox!
Michael plays with The Canny Band, consisting of himself, Sam Mabbett (accordion), and Callum Convoy (bodhran). They have made a name for themselves in the Glasgow traditional music scene, including numerous high-profile appearances on BBC Alba and BBC Radio Scotland. In 2021, they won the Up and Coming Artist of the Year at the MG Alba Scots Trad Music Awards. Their self-titled debut album was released in 2022 and features mostly self-penned tunes arranged in their own unique style, ranging from fast-paced reels and jigs to slower, sensitive, and carefully arranged numbers such as 'Helen's Song' and 'Jacob's Waltz.'
In addition to performing, Michael has been teaching piano, piano accordion, and music theory for several years. He boasts a 100% pass rate for his students' exams. When asked about his definition of success, Michael stated that making a living through music and having a good group of friends to rely on were more important than anything else.
Find out more about Michael at their website https://michaelbiggins.co.uk
The true cost of each place at Tinto Summer School is £500 and we have included an option to donate towards Tinto Summer School. Your donations, however small help us keep ticket costs down and enable young people who would not otherwise get the opportunity to attend. You can donate here.
Follow these topics: Tinto