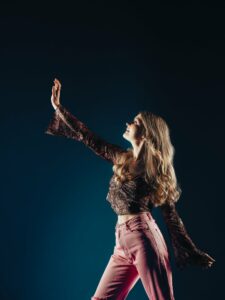 Tinto Summer School will be happening 3-8th July 2023 in the fabulous Wiston Lodge and we would love to see you there! This is our 23rd year of Tinto and it is always a special time making music and hanging out with (and making new) friends. You can find out more by visiting here.
Every year we have brilliant tutors to teach music and we thought you would like to find out more about them.
Josie Duncan
Josie Duncan is a highly talented folk singer hailing from the Isle of Lewis. After studying at the Royal Conservatoire of Scotland, she has become a prominent figure in Glasgow's traditional music scene. With a voice that's equally at home in Gaelic, Scots or English, Josie was awarded BBC Radio 2's Young Folk Award in 2017 alongside guitarist Pablo Lafuente. Together, they released their debut album 'The Morning Tempest' and toured extensively across the UK and beyond.
Josie is involved in several other projects, including INYAL, a five-piece band that fuses mercurial tunes, ethereal Gaelic songs, and intricate electronics. She also works with The Dusk, a trio that seamlessly intertwines three-part harmony with delicately crafted instrumentals, all in aid of the stories found in Josie's honest and charming self-penned songs. Whether performing with a band or as a soloist, Josie's approach to song always feels modern, yet many nods to the traditional can be found in her music.
Josie's latest album 'As the Moonlight Melts' showcases 12 self-penned songs, which offer a personal yet relatable account of her life as a neurodivergent person navigating life and relationships in her twenties. Her effortless and modern style of songwriting has captivated audiences around the world, gaining her a loyal following. The album is a melting pot of all her influences, from the pop music of the early 2000s to her traditional folk background. It features a mixture of 'sad girl pop' tunes that you can dance or cry to, and Josie had the pleasure of working with her dream band on the project.
Apart from performing, Josie has also taught at Tinto Summer School on many occasions, where she has written some of Tinto's favorite anthems.
Find out more about Josie at their website https://www.josieduncanmusic.com
The true cost of each place at Tinto Summer School is £500 and we have included an option to donate towards Tinto Summer School. Your donations, however small help us keep ticket costs down and enable young people who would not otherwise get the opportunity to attend. You can donate here.
Follow these topics: Tinto