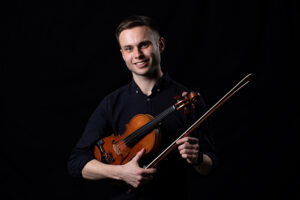 Tinto Summer School will be happening 3-8th July 2023 in the fabulous Wiston Lodge and we would love to see you there! This is our 23rd year of Tinto and it is always a special time making music and hanging out with (and making new) friends. You can find out more by visiting here.
Every year we have brilliant tutors to teach music and we thought you would like to find out more about them.
Graham Rorie
Orcadian fiddle and mandolin player, Graham Rorie, is a celebrated folk musician who has captured the hearts of audiences near and far with his evocative compositions and soulful performances. A graduate of the prestigious Royal Conservatoire of Scotland's Traditional Music Degree, Rorie has established himself as a prominent figure in the world of traditional music.
As a founding member of the quartet 'Gnoss', Rorie has had the privilege of performing at some of the most renowned festivals across Europe, including Glasgow's Celtic Connections, Festival Interceltique de Lorient in France, and Celtica Valle d'Aosta in Italy. The band has also been nominated for three MG Alba Scots Trad Music Awards, including 'Up and Coming Artist of the Year 2017' and 'Album of the Year' for their last two records, 'Drawn From Deep Water' in 2019 and 'The Light of The Moon' in 2021.
Rorie's latest endeavor, 'We Have Won The Land', is a collaborative project with Glasgow-based folk musician Rory Matheson that has received high critical acclaim. Inspired by Matheson's local area of Assynt in the North-West Highlands of Scotland and the community buy-out of the North Lochinver Estate by the Assynt Crofter's Trust in 1993, this suite of new music is a testament to the rich cultural heritage of Scotland. It comes as no surprise that the album was named one of the top 10 albums of the year at the MG ALBA Scots Trad Music Awards.
In addition to his own projects, Rorie is also a highly sought-after session musician, having lent his exceptional talents to albums by the likes of the Red Hot Chilli Piper's Dougie McCance, BBC Radio 2 Young Folk Award 2017 winners Josie Duncan and Pablo Lafuente, and 2018 MG Alba Scot's Singer of the Year Iona Fyfe. Graham Rorie is undoubtedly one of Scotland's brightest musical talents, and his contributions to the world of traditional music are nothing short of magical.
Find out more about Graham at their website https://www.grahamrorie.com/
The true cost of each place at Tinto Summer School is £500 and we have included an option to donate towards Tinto Summer School. Your donations, however small help us keep ticket costs down and enable young people who would not otherwise get the opportunity to attend. You can donate here.
Follow these topics: Tinto