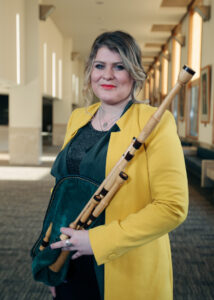 Tinto Summer School will be happening 3-8th July 2023 in the fabulous Wiston Lodge and we would love to see you there! This is our 23rd year of Tinto and it is always a special time making music and hanging out with (and making new) friends. You can find out more by visiting here.
Every year we have brilliant tutors to teach music and we thought you would like to find out more about them.
Alana MacInnes
Alana MacInnes is a prominent Scottish piper and traditional musician hailing from South Uist, an island in the Outer Hebrides. She has been playing the pipes since she was a young child and has since become a well-known performer and teacher in the traditional music scene.
Growing up in South Uist, Alana had a female idol and neighbor in Rona Lightfoot, who inspired her to pursue her passion for music. She began playing pipes at the age of seven and also plays the flute. Alana reflects on her journey with music, "I fell into playing pipes because I had a neighbor who played them and he taught me. I've had great teachers and opportunities with music, and they've done so much for me. It's opened doors for traveling, and I've met many people from different places and situations due to music. I've had lots of laughs, as well as a couple of tears, thanks to the pipes."
In addition to performing, Alana is also a talented writer and editor. She edited and wrote music for Young Uist Voices, a series that features recorded voice memos from young residents living and working across the islands between Eriskay and Berneray.
Alana's musical expertise led to her appointment as the Flora Macdonald officer by Stòras Uibhist, where she organized various events to celebrate the Uist heroine's 300th birthday.
One of Alana's notable contributions to the traditional music scene is her band Beira, which brings together roaring Scottish tunes and stunning songs in Gaelic, Scots, and English. The band comprises Alana, Caitln McNeill from Colonsay on guitar and vocals, Shona Masson from Skye on fiddle and vocals, and Fiona Black from Ross-Shire on accordion. Beira is known for its mutual appreciation of Gaelic music and each member's individual heritage. They play repertoire from the Highlands and Islands and continue to create music inspired by this area.
Alana's music is recognized for its emotive quality, with a focus on the Scottish piping traditions of her homeland. Her contributions to the traditional music scene and her dedication to promoting and preserving Scottish culture make her an important figure in the music industry.
Find out more about Alana at their website https://twitter.com/AlanaMacinnes
The true cost of each place at Tinto Summer School is £500 and we have included an option to donate towards Tinto Summer School. Your donations, however small help us keep ticket costs down and enable young people who would not otherwise get the opportunity to attend. You can donate here.
Follow these topics: Tinto