The Southside Fiddlers are the thirty second recipients of Hands Up for Trad's Business Limelight Award. The "Limelight's" are a monthly initiative (launched in October 2012) that recognises the outstanding contributions made by businesses and organisations who contribute, shape and influence the arts and cultural sector in Scotland today. The Southside Fiddlers is run by Louise Hunter.
We asked Louise the following questions.
What is your principal company activity?
To provide high quality, affordable fiddle lessons to children and young people in Glasgow. To give them opportunities to perform, compete, move through exams but more importantly to socialise with other young musicians, attend concerts, festivals and workshops and to help young people love their music and feel part of the vibrant music scene in Glasgow.
When and where did the company first start trading?
The Southside Fiddlers classes started in the front room of my parents house in Kingspark, Glasgow in October 2001. I was 16 years old and started the first class with 4 students. We've grown a fair bit since then!
What made you want to work in Scottish culture?
I was exposed to traditional music from a young age and went on to study Scottish Music at the RCS. While studying I spent my spare time teaching fiddle and quickly realised how much I enjoyed passing on my love of the music to others.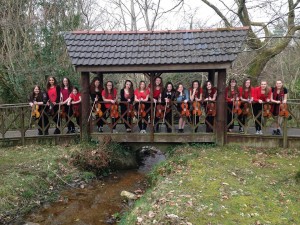 Can you tell us of any particular company highlights?
The students performing is always a highlight, from watching the little ones playing in their first concert to my older students who I've worked with for many years. Recently 10 of my senior students had an amazing trip to Cape Breton where they performed at the Celtic Colours festival.
What are your company's plans for the future?
I hope to continue to inspire more young people to love their music. It would also be great to get our own premises at some point in the future, with space for teaching, practising and an office.
How will you celebrate receiving Hands Up for Trad's Business Limelight award?
In the true Glasgow way with a bag of chips and a bottle of buckie!!
Contact The Southside Fiddlers
Aikenhead House, Flat 4
325 Carmunnock Road
Glasgow
G44 5HL
http://www.facebook.com/TheSouthsideFiddlers
Follow these topics: Limelight, News, Newsletter