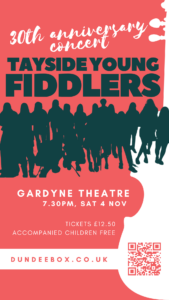 Tayside Young Fiddlers was formed by local musician Bob Edwards, and this year marks the anniversary of their founding. To mark this important milestone, they are celebrating with a Concert in the Gardyne Theatre, Dundee, with guests Patsy Reid, Sheena Wellington, Barbara Dymock, and Chris Marra, along with the 6th/8th Boys' Brigade Pipe Band.
Recently, they have performed at Perth Concert Hall at the National MOD, and at the Trad awards in the Caird Hall, which was televised on BBC ALBA.
In 2013 they released the first CD, 'Rockin' the Baby', and in 2018 'Journey'. In 2020 they released a short CD 'Together Whatever' as rehearsals continued online through the pandemic. These CDs are available from the venue and can also be purchased from Amazon.
In 2018 they were awarded a Landmark award from 'Hands up for Trad' for their role in continuing Scotland's great musical traditions into the next generation. In 2020 their Musical Director Kevin Findlay was inducted into the Scottish Traditional Music Hall of Fame.
Their 30th Anniversary concert details are below and they would love to see you. You can buy a ticket here.
Date: Saturday, 4th November 2023
Time: 7:30 PM
Venue: Gardyne Theatre
Tickets: £12.50, Children free
Follow these topics: News, Newsletter