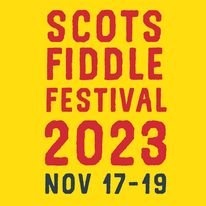 The Scots Fiddle Festival was launched in 1996 with the aim of promoting and sustaining traditional Scots fiddle music. Every year, the Festival brings people together from all over the world – both performers and audience members – and continues to inspire thousands of people to enjoy and take part in traditional music each year. It is a Registered Charity and is run by a dedicated committee of volunteers.
Interesting times we live in: world events, financial crisis, climate crisis, things constantly changing, but one thing which doesn't change is a great weekend at The Scots Fiddle Festival. Good company, good music – be it playing or listening, meeting up with old friends, making some new ones and generally relaxing.
The festival has Shetland, Norway, Wales, as well as Scotland, represented in the Headline acts, with some old favourites but a fair smattering of new. Plus workshops, stalls, recitals, ceilidh, and the ever popular sessions. All centred around our Festival Hub in The Cabaret Bar.
As ever the festival is run and organised by dedicated volunteers on the committee (to whom many thanks for a power of work), creating a friendly place to meet and enjoy good music – and enjoy the company.
Thanks for coming to the 2023 Festival; people travel from all round the world for this weekend and it wouldn't work without all of you. Please say hello, let's have your feedback, but most importantly, enjoy the weekend.
Find out more here https://www.scotsfiddlefestival.com/programme
Follow these topics: News, Newsletter