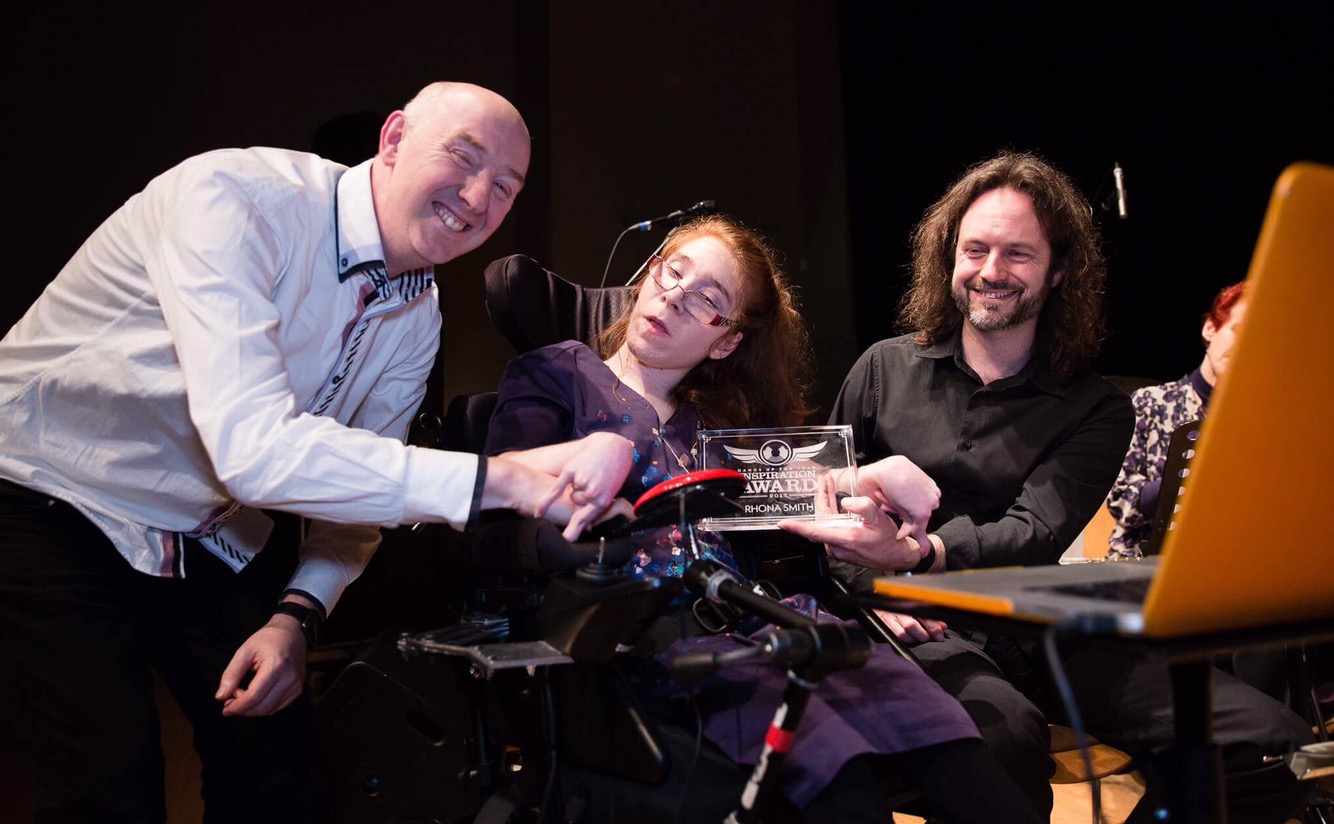 On March 31st 2017 Hands Up for Trad presented inspirational musician Rhona Smith with their inaugural Inspiration Award in Stirling Tolbooth. Read about Rhona below.
Rhona Smith has become an inspiration to everyone who comes into contact with her through her ability to share her own inspirations through her work as a musician and composer.
Working with software including E-Scape Assistive Music Technology and Notion, Rhona has been able to channel the music she's heard on some of the world's most prestigious stages such as the Royal Albert Hall into her own performances at festivals including Celtic Connections, the Edinburgh Fringe and the international, multi-cultural Just Festival.
She has also performed at the Queen's Hall in Edinburgh, where her rendition of the violin part in Arvo Pärt's Spiegel im Spiegel moved the audience to tears, and the Royal Conservatoire of Scotland and as a composer she has collaborated with the Lung Ha Theatre Company and given workshops at Edinburgh International Harp Festival.
Rhona gained a Trinity Guildhall Music Certificate in 2004 while working with Drake Music Scotland and has gone on to become a crucial member of the Drake team, being a founder member of both the organisation's Digital Orchestra and its traditional music ensemble, Equilibrium.
Fellow composer Emma Clark, who has worked with Rhona extensively since meeting her through Drake Music Scotland, describes Rhona as a fabulous musician and a delightful person to be around. An open-minded, flexible approach to creating music allied to enthusiasm, a great sense of fun and Rhona's renowned wicked sense of humour have ensured that, for Emma, Rhona has brought new meaning and perspective to what music is all about.
"Music is a language that speaks to one and all," says Emma. "And Rhona is a true ambassador of this language as she speaks it from her heart."
Drake associate musician Ali Gillies agrees, praising Rhona's fund of ideas and her determination to see them through to the finished article and make them shine in performance. Ali has known Rhona for three years and worked with her on a number of challenging new musical projects, where Rhona's sensitivity as well as her commitment has made working with her a privilege.
Rhona's imagination – the way she constructs vivid scenes and stories in her music, often with unexpected twists and very individual turns that pull the strands together – is what harper Karen Marshalsay finds particularly inspirational. Karen has worked closely with Rhona in the traditional music ensemble Equilibrium where in performances, she says, Rhona shows a wonderful sense of playfulness and mischief and a willingness to experiment and interact with her fellow musicians. "She's a great improviser," says Karen, "and I love her spontaneity."
For Drake Music Scotland's artistic director, Pete Sparkes, Rhona is a fantastic musician – passionate, dedicated and hugely committed to rehearsal and performances, always willing to take on ambitious and risky challenges.
"Rhona has a quiet confidence and keen sense of humour that have often helped us during difficult rehearsals," says Pete. "She has taught me to listen better and think harder. Over the past five years I have worked with Rhona nearly every week and I respect and admire her as a vital part of the Drake Musician team. I'm excited to see her receiving a very well deserved award today."
Read about the Hands Up for Trad Inspiration Award.
Follow these topics: Inspiration, News, Newsletter