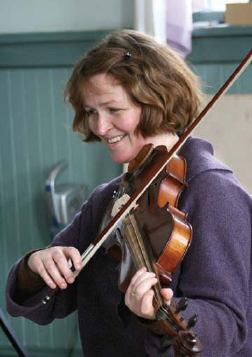 WHETHER interpreting traditional or Burns songs, or voicing thoughtful new compositions by herself and her husband, Dave Francis, Mairi Campbell's poised vocals – described by one reviewer as "a voice to stop the clock" – have been a familiar strand within the Scottish folk scene for the past couple of decades. Her fiddle playing and pioneering use of viola, her role in the revival of interest in Scottish step-dancing, an increasing stage presence as both writer and performer, and her work as an educator at both conservatoire and community levels, all add to her significance as  an innovative and inspiring artist.
Mairi's various awards have included Scots Singer of the Year, Tutor of the Year and Instrumentalist of the Year in the Scots Trad Music Awards, as well as a Female Musician of the year award from LiveIreland and first place in the 2009 Niel Gow International Fiddle Competition. Numerous collaborations have included working with Mike Vass, David Gray and writer and performance poet Skye Loneragan. Perhaps her most widely celebrated appearance was performing Auld Lang Syne with husband Dave in their duo, The Cast, before Bill Clinton and Sean Connery at the Presidential Lifetime Achievement Awards in Washington DC – the improbable-sounding result of which was that their haunting rendition of the Burns song (using the old, original tune) featured during the 2008 blockbuster movie Sex and the City.
All of this Mairi appears to have taken in her stride while bringing up two daughters with Dave in Portobello (the Edinburgh seaside suburb which has featured in at least one of their songs).
Although Mairi grew up in Edinburgh she spent school holidays on the Island of Lismore, Argyll, a place with strong family ties.  There her love of traditional music was nurtured by dancing to Bill Black's Scottish dance band and listening to local Gaelic singers at ceilidhs.
She didn't become involved in traditional music until after a classical training on viola at London's Guildhall. After several years freelancing with orchestras she went travelling, backpacking in Mexico and Nova Scotia, Canada, where she felt the tug of her native music. There, in 1992, she reached what felt like a critical career crossroads, and returned to Scotland to pursue traditional music.
The experience of the music and step-dancing she heard from the Scots Gaelic diaspora in Cape Breton, Nova Scotia, had proved momentous, she recalled in an interview:  "I wanted to play traditional but I had only ever played classical and it became a lifelong search to engage with the tradition and find my pulse in the sense of finding the rhythm, finding the beat which is really, really hard to do. It's not something that you just pick up. I wanted to learn how to play with a steady beat."
The music in Cape Breton, she says, "just hit me in the solar plexus. It was my music but I couldn't bed it in rhythmically. Very frustrating at the time."
In Scotland she met Dave Francis, guitarist, songwriter, storyteller and traditional music advocate, with whom she formed The Cast and also started playing with him in ceilidh bands. Californian-based Scots fiddler Alasdair Fraser invited The Cast to record the first of their five albums, The Winnowing (including Auld Lang Syne), on his Culburnie label.
Mairi started teaching dancing and fiddling both at Fèis courses and at the phenomenally successful Scots Music Group (formerly the Adult Learning Project) in Edinburgh. Continuing to play and teach while bring up their two daughters, Ada and Ellen, with Dave, she started practising Sahaja Yoga meditation – establishing an interest in self-development techniques which has continued through her career, recently through the cross-art improvisational method known as InterPlay and Kath Burlinson's "creative midwifery" work, The Authentic Artist Collective.
With Dave she founded the renowned Bella McNab's dance band, led for 12 years a 60-strong folk choir, Sangstream,  and also established her own fiddle retreats and songcraft workshops on Lismore. In 2016 she became an improvisation tutor at the Royal Conservatoire of Scotland in Glasgow.
The pair have continued to write such notable songs as Smile or Cry, The Step-dancing Song and The Piper and the Maker and in 2011 she issued her eponymously-titled solo album on the couple's Greengold Music label. She and Dave have worked as songwriters for Youth Music Theatre projects and also created two music theatre shows of their own – Red Earth, telling the story of her grandmother's life married to a doctor who died in China in the 1930s, and Revival! concerning her paternal grandfather, a minister during the Lewis religious revivals of the 1950s.
Anxious to pursue further personal projects and marry her long-time interest in improvisation with traditional music and storytelling, she launched her one-woman show Mairi Campbell: Pulse, co-devised and directed by Kath Burlinson, at Celtic Connections in 2016 and has continued to perform it since.  The show tells her musical and personal quest to learn to play in time, through song, dance and narrative. "With these shows, starting with Pulse I can work on various levels, blending personal, political and societal threads.   A stage show somehow allows this broader palette, which I'm really enjoying."
Pulse went on to run a three-week season at the Fringe 2016 and 2017 and earlier in 2018 was performed in the USA and Germany, meeting with critical acclaim.
Mairi continues to perform regularly with groups as diverse as the Occasionals, Concerto Caledonia and the Danish folk band Himmerland. At the time of writing, however, she and Burlinson were preparing a new show, entitled – wait for it – Mairi Campbell: Auld Lang Syne, about that song, its impact on her life and its broader significance.  Auld Lang Syne is sung to mark a transition from one year end to the next, from darkness into light, so the show explores the personal, political and social choices around that.
The second show of a planned trilogy which kicked off with Pulse, Auld Lang Syne will premiere at the Scottish Storytelling Centre in Edinburgh during the 2018 Fringe, as part of the Fringe's Made in Scotland showcase.
Read more about Mairi Campbell.
Read about our other Hands Up for Trad Inspiration Awards.
Follow these topics: Inspiration, News, Newsletter