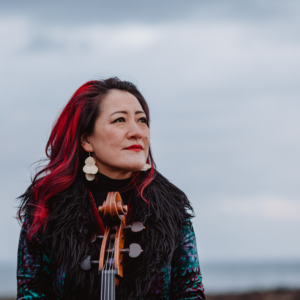 Hands Up for Trad's Women in Music and Culture 2023 list has been announced to celebrate just some of the women working in Scotland.
Launched as part of International Women's Day 2023, we shine the spotlight on 15 women who all contribute towards Scotland's cultural landscape through their work. Read the list here.
We asked Su-a Lee to tell us more about there work, influences and ambitions for the future.
How did you first get involved in the arts and who were your early influences?
I was lucky to be offered the option of violin lessons at my primary school, which I snapped up because that's what my older sister was doing, but I soon realised (within 2 weeks) that the violin was not for me. Luckily my sister's teacher had a brother who played cello for fun and he took me on as a pupil. I absolutely loved the cello from the start and have barely put it down since.
Early cello influences and idols were Rostropovich and Isserlis… and latterly Natalie Haas.
At a time which has been very challenging for many people working in the arts, how did you use the last 3 years to develop your creativity?
With the overnight global full stop to work, and a chance to contemplate, I started a dream project to make my first solo album after over 30 years of working professionally. I approached some of my favourite musicians who I have worked with over the years to record a track with me as a duo, resulting in an album of 15 duos with folk from the non-classical side of my career.
Since it was lockdown, it was necessary for me to learn how to write and record digitally for the first time in my life in order to be able to pass ideas back and forward with my collaborators. I also had to learn all aspects of how to produce an album, including budgeting, planning, hiring studios, mixing, licensing, registering, fundraising, artwork, press releases etc. The list of new skills that I had to learn is endless.
I have gained a lot of knowledge, but also a lot of respect for all my fellow musicians and artists who do this on a regular basis!
Who or what interests you creatively?
This is a hard question for me to answer because there are endless things that interest and inspire me. But I guess if there's one aspect that always interests me, it is the energy and collective creativity that happens when I work with other people. This is so different from working alone and you can never predict or account for what will happen in the end. The magic of working with other creative souls is always happening in the moment, and can take any number of directions, even with the same set of people but on different days. So in short, the answer is to surround myself with other creative people.
What are your plans for the next year or so and/or what are your longer term creative ambitions?
I have a very busy year planned ahead, with a good variety of projects from large to small. I obviously have a full schedule working with the Scottish Chamber Orchestra, in full orchestra form, as well as chamber music (next week I'm thrilled to be playing a couple of chamber music projects with two of my heroes, Pekka Kuusisto and Sam Amidon). I also have a full schedule of playing with folk groups, such as Duncan Chisholm Band and Megan Henderson Trio. I will also be coaching on a few residential youth groups, such as National Youth Orchestra of Scotland, Benedetti Foundation and National Youth Folk Ensemble. I am curating a couple of concerts for the East Neuk Festival with different bands that I play with. I certainly seems to be a demand for me to curate a few different line-ups for concerts in the future, which is an exciting new prospect for me.
Find out more about Su-a Lee here.
Hands Up for Trad are an organisation who work with Scottish traditional music, language and culture. If you would like to support our work you can donate here.
Follow these topics: News, Women in Music