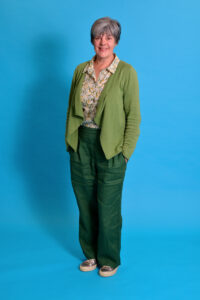 Hands Up for Trad's Women in Music and Culture 2023 list has been announced to celebrate just some of the women working in Scotland.
Launched as part of International Women's Day 2023, we shine the spotlight on 15 women who all contribute towards Scotland's cultural landscape through their work. Read the list here.
We asked Shona MacLennan to tell us more about there work, influences and ambitions for the future.
How did you first get involved in the arts and who were your early influences?
I grew up in a family, like many other island and highland folk, where Gaelic was spoken by older generations but not passed on to young people. So I heard it in my Granny's house first of all, and then we had Gaelic lessons in primary school. By then I was also becoming aware of Gaelic music and song and this interest grew as I went on to secondary.
At secondary there was a choice between Gaelic or French, and although I wanted to study Gaelic, I was advised to do French. However, I still took part in local cèilidhs and dances and as a family we watched tv programmes like Can Seo and any with Gaelic music which strengthened my interest in the language. At university, Runrig became a huge influence and when my aunt who was the last Gaelic speaker in our family died, that really kicked me into learning Gaelic. After university, moving to Skye to work at Iain Noble's estate in Sleat and being part of that community really inspired me to become an activist for the language.
At a time which has been very challenging for many people working in the arts, how did you use the last 3 years to develop your creativity?
There have been a number of different strands which have really come to the fore in the last three years. On the positive side, there has been the huge online engagement with Gaelic over the last 3 years. For adult learning, Duolingo's launch of Scottish Gaelic on their app has led to 1.5 million people engaging with Gaelic online – that's compared to the 2011 census stats of c.80k having some Gaelic skills. Complementing that has been the uptake and success of SpeakGaelic the multi-platform partnership delivered with BBC and Sabhal Mòr Ostaig and others.
The growth of Gaelic on social media, particularly by young people, has been another positive aspect that has increased confidence in the language. The availability of online ceilidhs and educational support online made a huge difference to people's sense of wellbeing during the pandemic, and also the opportunities for young people to hear and use Gaelic outwith school.
The challenges of lockdown and the consequent changes, particularly for island and rural communities has required more leadership on the needs of Gaelic-speaking communities to ensure that they are supported and grow rather than become more marginalised and further weakened.
Who or what interests you creatively?
The growth in confidence in young people about our Gaelic language and culture. This week has seen a phenomenal engagement with Seachdain na Gaidhlig/WorldGaelicWeek. How that confidence is maintained, nurtured and grown is crucial to the health of the language and also to the health and wellbeing of the young people themselves. They show great creativity in how they are developing Gaelic across the arts, in sports initiatives, providing learning and advice particularly using social media and using Gaelic socially and what we in the public sector need to do to serve their needs is incredibly important.
The range of talent that we see in FilmG is another aspect of this, with the creativity displayed in the scripts, acting and technical skills showing real advances in the 15 years since the competition started. It's really interesting to consider how the impact of initiatives like this in growing the talent pool and creating confidence can be increased and translated into different spheres to provide more engagement, confidence and support.
What are your plans for the next year or so and/or what are your longer term creative ambitions?
Plans for the next year are focused on increasing the awareness and support for Gaelic as well as the standing of the language and culture nationally and internationally. There's also the need to create greater opportunities for succession planning across a wide range of Gaelic organisations and do deliver that creatively and engagingly so as to enthuse and inspire and build on progress that's been made. Onwards and upwards!
Find out more about Shona MacLennan here.
Hands Up for Trad are an organisation who work with Scottish traditional music, language and culture. If you would like to support our work you can donate here.
Follow these topics: News, Women in Music