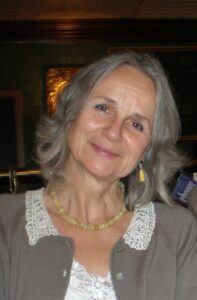 Hands Up for Trad's Women in Music and Culture 2023 list has been announced to celebrate just some of the women working in Scotland.
Launched as part of International Women's Day 2023, we shine the spotlight on 15 women who all contribute towards Scotland's cultural landscape through their work. Read the list here.
We asked Margaret Bennett to tell us more about there work, influences and ambitions for the future.
How did you first get involved in the arts and who were your early influences?
My earliest influences were my parents: Gaelic on my mother's side and Scots on my father's side. Both sang and my father played the bagpipes & other instruments. Both were involved in the arts inasmuch as my mother was often invited to sing at ceilidhs and concerts and my father as a solo piper, or to play for dancers, for events and with a pipe band. My father was also a 'Burns man' and was regularly asked to do the Immortal Memory so at home the national bard was also an influence. I'm one of four sisters and we sang together (and harmonised) taking our repertoire from a wide range of sources besides the Gaelic and Scots at home. Early influences (via our parents and school friends) were Gaelic singers (Calum Kennedy, James Smith, Kenneth McIver, Kitty MacLeod et al), Robert Wilson, Anne & Laura Brand, Fr. Sydney McEwan, John McCormick, Kathleen Ferrier, the Beverly Sisters, Hank Williams (and all the Hanks!), Patsy Cline, the Carter Family and others.
After leaving home my influences were from the Folk Revival of the Sixties, with Pete Seeger, Ewan MacColl, Joan Baez, Tom Paxton, the Corries, and the whole 'folk scene'
At a time which has been very challenging for many people working in the arts, how did you use the last 3 years to develop your creativity?
During the pandemic I worked on projects relating to traditional songs, music, writing and the performing arts:
1.
I joined the online sessions of the Traditional Song Forum, organised fortnightly for an international 'gathering' by Steve Roud and Martin Grebe. I gave two of the presentations all on the TSF YouTube channel:
• Don't let us be strangers: A Sample of William Montgomerie's Fieldwork Recordings of Scottish Farmworkers, 1952 (14 June 2020)
• Song collecting in Newfoundland with Kenneth S. Goldstein
• Gaelic Psalm Singing: understanding how it operates.
2.
As many people working from home also had the task of looking after children, I created 5 singing sessions for pre-schoolers, teaching them songs and rhymes:
Monday: https://youtu.be/evgW2_dTsjo
Tuesday: https://youtu.be/xm2L7DbXfoI
Wednesday: https://youtu.be/m7Qs8g6E8fM
Thursday: https://youtu.be/3HZNQfQjOP0
Friday: https://youtu.be/Pr_P8Oo41j8
2.
Collaboration on an animated film by Cat Bruce, "Dusgadh", with an original musical soundtrack by Breabach, narrated by Margaret Bennett. See:

3.
Collaboration with Allan and Rosemary McMillan of Edinburgh Folk Club to raise funds for musicians who had lost their livelihood because of the pandemic. Organised and introduced an online Fund-raiser also aimed to lift the spirits, inviting singers to take part in a humorous song session entitled 'Scottish Domestic Bliss 2020 Lockdown'
In aid of the Paddy Bort Fund, see:
Part 1
allhttps://www.youtube.com/watch?v=FM6NRyifvao
part 2

4.
I prepared and gave online talk (with songs) to celebrate the centenary of Skye bardess and political activist, Màiri Mhòr nan Òrain.
Organised on Zoom by Gàidhlig Dumgal (Wigtown)]] 5.
I participated in the School of Scottish Studies 70th anniversary (online) series and gave a presentation featuring one of Scotland's most influential singers, Norman Kennedy, who lived near Jeannie Robertson.
See, "Norman Kennedy: The Warp and Weft of Tradition"

6.
January 25, 2022, an Online 'virtual' Burns supper for Befrienders Glasgow:
In the lead-up, online mentorship for two students: Burns repertoire and tuition.
7.
Publication project (book and CD)
The lockdowns gave me a chance to work on a long-neglected collection of children singing Dundee street songs recorded by William Montgomerie in 1952 and archived in the School of Scottish Studies. Montgomerie was a pioneer in audio-recording, pre-dating other fieldworkers of the School of Scottish Studies, and he has long deserved to be better known. In 2021, Dundee City Library held an online launch for the book,
Dundee Street Songs, Rhymes and Games: The William Montgomerie Collection, 1952 (Illustrated by Les McConnell,). In 2022 the book received an international award, see: https://americanfolkloresociety.org/margaret-bennett-receives-2022-iona-and-peter-opie-prize/
8.
I joined (and took part) in regular zoom 'folk nights' run by the 'Howth' (in Dublin) and FifeSing (Pete Shepherd et al).
Who or what interests you creatively?
Songs, music, stories and all aspects of traditional folk culture.
I enjoy recording the traditions of people from all walks of life and am interested in community music-making. I am interested in traditional skills, from the domestic crafts to engineering skills that continue to shape the ever-changing world.
What are your plans for the next year or so and/or what are your longer term creative ambitions?
I plan to teach at a Folk Music Summer school in the USA, then visit Quebec to give a concert, visit friends and contribute some of my research and photographs to a recently established museum.
I hope to finish a book that I started during the pandemic. I would also like to edit and publish more of my research especially material relating to traditional songs and music. As I am now in my 70s I would like to live long enough to disseminate more of my archive which includes my mother's collection of songs as well as recordings made with my son Martyn Bennett (1971–2005).
Find out more about Margaret Bennett here.
Hands Up for Trad are an organisation who work with Scottish traditional music, language and culture. If you would like to support our work you can donate here.
Follow these topics: News, Women in Music