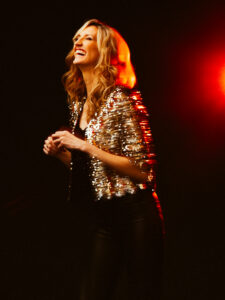 Hands Up for Trad's Women in Music and Culture 2023 list has been announced to celebrate just some of the women working in Scotland.
Launched as part of International Women's Day 2023, we shine the spotlight on 15 women who all contribute towards Scotland's cultural landscape through their work. Read the list here.
We asked Joy Dunlop to tell us more about there work, influences and ambitions for the future.
How did you first get involved in the arts and who were your early influences?
I was born and brought up in Connel, Argyll and when the Mòd came to come to Oban, all the children in the area were encouraged to take part. That was my first introduction to Gaelic singing but it was something that I continued to explore as I grew up. Through Fèis Latharna and music lesson, I learnt a variety of different instruments but I found that I was a much better singer than instrumentalist; mostly because I didn't practise nearly enough! We also had two local ballet schools and many children in the area learnt to dance, which meant that it was natural for me to pick up step dancing as a teen.
Mrs Pollock (always Mrs Pollock, never Mary!) was probably my biggest early influence as without her, I wouldn't have known any Gaelic songs. Other influences were the local singers who took part in Taynuilt or Oban cèilidhs – they were my only opportunity to hear Gaelic sung live and I used to pick up choruses by ear, whilst not having a clue what they were singing about. Not having Gaelic in the family or any island roots meant that. I learnt my songs either from them being prescribed for the Mòd or through listening to tapes and CDs – Mum's 'Gaelic Women' CD was was favourite, with 'Gura tu mo bhean chomain' by Karen Matheson and 'Òran Chaluim Sgàire' being played most often.
I always sang though from when I was tiny, be it singing along with adverts and tv jingles, to mesmerising the whole Disney back catalogue by ear. I used to make up songs with my brothers, and memorised my annual Now, That's What I Call Music tape/cd in its entirety purely by playing ti on repeat. Atlantic 252 was also an teenage lifeline, though I used to have to lie on the floor behind my bedroom door with the lights out to avoid interference!
At a time which has been very challenging for many people working in the arts, how did you use the last 3 years to develop your creativity?
My brother Andrew and I released our duo album on the day that Scotland went into full lockdown, which in case you hadn't guessed, is the very worst time to launch an album. Everything was instantly cancelled and as we lived in different cities, we couldn't even perform together online. Having to basically shelve this completely was a huge disappointment but it did mean that I had to quickly reassess my options. I'd also been planning to create a new album with my new 5 piece band but due to social distancing, this wasn't possible either and had to be totally put on ice – as were all projects with my fabulous Alba Eurovision Choir.
I quickly accepted that in person performing would be permanently on hold, so looked for different ways to keep myself busy and also, make a living; as a freelancer, I still had to pay my mortgage and due to my mix of jobs, I wasn't eligible for much financial support. I quickly transferred any teaching that I had online and applied for funding Meur Chruachain to host their world famous Taynuilt Cèildhs on Facebook. Performing at the ceilidhs growing up was what gave me performance experience and I wanted to give back in some way. I was bean an taiga (MC) for most of the monthly ceilidhs, which actually proved invaluable in terms of broadcasting experience and they were the most lovely way to stay in contact with family and friends across the globe. Myself, Brain O hEadhra and Pàdruig Morrison also established arts group Ealantas, which have us the opportunity to support both ourselves and other artists through holding online Còmhraidhean Cruthachail (Creative Conversations) and online cèilidhs.
I also began collaborating with Hands Up For Trad on a few online initiatives, including establishing the first ever Say a Gaelic Phrase Day, This proved to be really popular online, and was the catalyst to create Seachdain na Gàidhlig (World Gaelic Week), of which I am now Director.
Lastly, I continued to do freelance broadcasting and in some ways, the pandemic meant that I gained opportunities due to being Glasgow based and available! I presented the weather on both BBC Scotland & BBC Alba and was asked to present the semi-finals and finals of the BBC Radio Scotland Young Traditional Musician of the Year competition. I presented a special Hall of Fame programme for Na Trads and even had the opportunity to host Travelling Folk. A really special moment was interviewing Duncan Chisholm, in the glorious setting of Kelvingrove Art Gallery – it was also my first time hearing live music and I cried listening to Duncan and his fabulous band!
Lastly, I was asked to host SpeakGaelic; a multi-faceted Gaelic learning initiative. This was an absolute dream job for me and such an honour to be involved. We managed to film in lockdown under very strict restrictions and every single person involved went above and beyond to make it happen.
Who or what interests you creatively?
I love having a idea and making it happen – whatever that idea is and I'm always open to difference ideas. I find new projects really exciting, so creating something fresh, be that music, a television/radio programme, online chat, or a community project, is something that I love.
I definitely am naturally drawn to people, music and culture and I really enjoying working with others – I'd much rather be part of a team, than do it all myself – so any projects that involve cultural collaboration will always be of interest. I am a huge choral singing fan too and my favourite part is singing in harmony with other enthusiasts. I've said it before and I'll say it again – part singing is good for the soul.
What are your plans for the next year or so and/or what are your longer term creative ambitions?
I'm releasing Caoir, my new album at the end of March and I look forward to touring that with my new band and also, seeing what other musical adventures arise from that. We're heading to China at the end of August, which we're very excited about as it's be our first international tour together.
I hope to keep broadcasting as much as I can, and to keep mixing weather, music and people in my broadcasts – be them on television, radio or online. I'd also like to keep developing Seachdain na Gàidhlig, and to reach a much wider national and international audience.
And lastly I'd like to keep finding the time to squeeze in all the rest of the stuff that I do for fun – and maybe even finally time to go on holiday!
Find out more about Joy Dunlop here.
Hands Up for Trad are an organisation who work with Scottish traditional music, language and culture. If you would like to support our work you can donate here.
Follow these topics: News