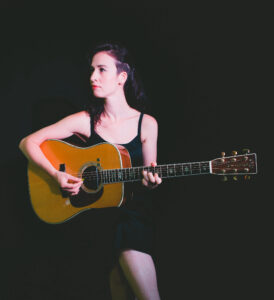 Hands Up for Trad's Women in Music and Culture 2023 list has been announced to celebrate just some of the women working in Scotland.
Launched as part of International Women's Day 2023, we shine the spotlight on 15 women who all contribute towards Scotland's cultural landscape through their work. Read the list here.
We asked Jenn Butterworth to tell us more about there work, influences and ambitions for the future.
How did you first get involved in the arts and who were your early influences?
One of my earliest musical memories is my dad playing 'St Kilda Wedding' to entertain my younger brother and I during bath time, when I must have been around 4 years old. He played mandolin and guitar a lot in the house when I was growing up, we'd go to summer folk festivals as a family and spend all our time in the sessions. I 'borrowed' his guitar when I first got interested in playing, and although I wouldn't really let him teach me in a formal way, he was a huge influence in my early years as a folk musician.
Later when I started playing professionally, I worked with Anna Massie and Mairearad Green and they were both a huge influence not only on my creativity but also my professionalism and understanding of the industry. We learned a lot together in our early 20's touring as a young band.
At a time which has been very challenging for many people working in the arts, how did you use the last 3 years to develop your creativity?
Although there have been some challenging and somewhat lonely experiences over the last 3 years working as a musician through the pandemic, the enforced time at home gave me some space to focus on my own music and creative practice after an extremely hectic schedule in 2019 and early 2020. I created a Patreon and filled it with new teaching resources for folk guitar playing, I also created a website called 'Karafolkie' which provides a catalogue of backing tracks for tune players to jam along with. I learned a great deal about recording myself in the house, which not only gave me more knowledge of engineering and production, but also helped me zone in further on my own tone and sound as a guitarist. I also did a few solo gigs which was a relatively new venture for me, and the material I developed in lockdown is now forming the basis for a few albums I'm working on at the moment.
Who or what interests you creatively?
As someone who specialises in accompaniment, I'm really interested in people's individual creative voices; their style and rhythm and how I connect with it. Matching someone else's timing and interpretation, and hearing someone respond to ideas I throw out there is so exciting. I've spent entire evenings at festivals jamming with other musicians, and although we haven't really talked much feel that we've really got to know each other through playing music together. I'm so lucky to have played guitar for a wide range of incredible players and singers, I love those instrumentalists who aren't afraid of taking the tune somewhere different.
What are your plans for the next year or so and/or what are your longer term creative ambitions?
I'm absolutely delighted that live music has returned post-pandemic, and audiences are gaining the confidence to come out and support live shows again. I have a busy year of performances lined up, including gigs with Kinnaris Quintet, Laura-Beth Salter, Will Pound, Ross Ainslie & Ali Hutton and Fiddlers' Bid with a few other projects in the mix too. I've been putting my production skills to use, having recently released an album with harmonica and melodeon player Will Pound at the end of February, and currently working on a duo record with cellist Alice Allen along with plans for my first solo album this summer. I'm really enjoying having the opportunity to spend time creating, recording and producing music, and I'd love this to be a regular part of my creative practice over the coming years.
Find out more about Jenn Butterworth here.
Hands Up for Trad are an organisation who work with Scottish traditional music, language and culture. If you would like to support our work you can donate here.
Follow these topics: News, Women in Music