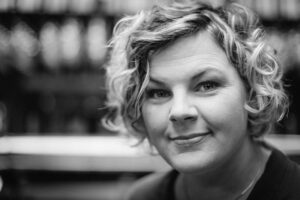 Hands Up for Trad's Women in Music and Culture 2023 list has been announced to celebrate just some of the women working in Scotland.
Launched as part of International Women's Day 2023, we shine the spotlight on 15 women who all contribute towards Scotland's cultural landscape through their work. Read the list here.
We asked Anna Massie to tell us more about there work, influences and ambitions for the future.
How did you first get involved in the arts and who were your early influences?
There was always music in the house when I was growing up – mum and dad are both musical. Some of my earliest memories are of a house full of visitors at various gatherings and celebrations: a guest playing a tune, another giving a song, maybe a poem as a party piece.
My fiddle teachers Debbie Ross and Isobel Grant played a huge part in things, as did various bandmates along the way. In the early days of playing the fiddle, I'd stand behind the curtain on village hall stages and scratch along with dad's ceilidh band. At 13, I joined the band and started gigging most weekends.
The first music I loved listening to was Four Men and a Dog and Natalie MacMaster. Their tapes were the soundtrack to every car journey for years!
At a time which has been very challenging for many people working in the arts, how did you use the last 3 years to develop your creativity?
During lockdown, my creative outlet switched from playing music to making videos. I spent the spring and summer of 2020 at home with my parents in Fortrose and began a series of "daily updates you can't make up," as the self-styled Black Isle Correspondent. I catalogued our daily activities – DIY, home baking, dog walking, local history, the odd bit of music. I so enjoyed developing this side of my creativity – still very much a creative pursuit, but lots of different sides
to it – researching, writing, presenting, editing. I think this has definitely helped as I've made the move into more broadcasting work in the past couple of years.
Lockdown came during a particularly busy gigging spell for me and, to be honest, the enforced break from playing and touring was quite a welcome thing. It lasted a lot longer than anyone foresaw, but that only served to make me appreciate the return to performing more. I certainly feel I've come back to touring with a refreshed enthusiasm!
Who or what interests you creatively?
I just love to be entertained. I often spend a weekday afternoon at the pictures. A quiet cinema is a thing of joy. Similarly, grabbing a bit of time with a good book is a wonderful escape. These are both things where you need to immerse yourself in the story and can indulge in some escapism. The Banshees of Inisherin stayed with me for a long time after I saw it, and I'm currently enjoying Maggie Shipstead's Great Circle.
I'm full of admiration for songwriters: I'm a sucker for a well-turned phrase, regardless of genre. I've recently discovered Wallis Bird, I'm a longstanding fan of Karine Polwart and Anaïs Mitchell's writing, and can't resist singing along with the Broadway cast recordings of Wicked, Hamilton and Book of Mormon.
What are your plans for the next year or so and/or what are your longer term creative ambitions?
I was thrilled to be named Producer of the Year at December's Trad Music Awards and love being in the recording studio. I'm looking forward to some studio projects this year.
2023 is Blazin' Fiddles 25th anniversary year and we've got some exciting things coming up – recording a new album, some great festival appearances, tours and a St Andrew's Day gig in the Usher Hall with Del Amitri singer Justin Currie.
I really enjoy my role as Travelling Folk presenter on BBC Radio Scotland – it feels like making mix tape for your pals every week! I also love working on the Radio Scotland series It's A Small World, where I meet various community groups and find out what makes them tick. I'd love to explore more of this.
Find out more about Anna Massie here.
Hands Up for Trad are an organisation who work with Scottish traditional music, language and culture. If you would like to support our work you can donate here.
Follow these topics: News, Women in Music