Hands Up for Trad's Ignition Award is an award for musicians and bands who put the charge into the tradition. At Hands Up for Trad we like to celebrate innovation so we have brought forward this award to celebrate those musicians who take chances and in doing so make Scottish trad music an exciting place to be. Mike Vass is one of Scotland's most innovative musicians. He is constantly exploring and recording different music on boats and in studios!
We asked Mike the following questions.
When did you first start playing music?
I started fiddle lessons at primary school in Nairn when I was seven with my teacher Colin Warrender, who was a viola player by trade, originally from Australia and with a classical background. He was however interested in Scottish traditional fiddle and all his students learned tunes as well as learning from the classical (or concert music) repertoire.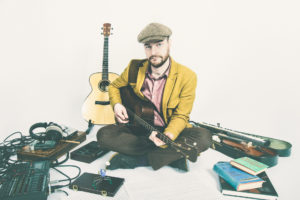 Did you make a conscious decision to be innovative with your music?
I don't think it was as conscious decision. I think I was very lucky to be hearing lots of innovative Scottish music from a young age. Wolfstone were based in Inverness and I saw them performing plugged in on the High Street when I was quite young. Capercaillie came and played at our Nairn Harbour festival, and the early Shooglenifty records were never off my CD player. So I think experimenting with cross-genre sounds was something I was compelled to do thanks to these earlier innovators. 'Standing on the shoulders of giants' etc….!
What are your main influences?
I was lucky enough to have a few fiddle lessons as a teenager with Ian Hardie, who had moved to Nairn from Edinburgh. I used to cycle round to his house when he had the occasional bit of free time between his work as a solicitor, his involvement in book editing and publishing and his own composing.
I feel very grateful to Ian for teaching me some of his own compositions (he was a prolific composer and wrote many tunes inspired by his walks in the Nairn area) as I really feel this gave me a sense of freedom to explore my own tune and songwriting at an early age.
These days I'm desperate for new sounds all the time. I try and listen to everything produced within our Trad music scene as far as possible, as it is fascinating. There are as many approaches to music as there are different personalities I think..
In my teens I listened to exclusively trad music CDs I borrowed from the Balnain House shop (I did my work experience there in third year of school) and the top 40 hits of the 90s. It wasn't until I was in my early twenties that I realised there was a much bigger world of music out there that I'd yet to discover. I started listening to more classical music, electronic music and to more songwriters which all influenced my direction as a musician.
I also spent a lot of time reading books in my twenties and found myself writing little pieces of music inspired by things I'd read.
There is inspiration and influence to be found everywhere. In other musicians' work, in books, in films, in art. I try and remain open minded as far as possible.
What music excites you that we should be listening to?
We're really spoiled with the live music scene in Glasgow currently and I've seen some amazing shows in the past few months. These are all great artists I would recommend to see live if you get the chance… In no particular order some of the great acts I've seen recently are:
Mairearad and Anna, David Byrne, Loudon Wainwright iii, John Grant, 2 many DJs, Jon Hopkins, Eilidh Shaw and Ross Martin
In terms of recorded work, I've been listening a lot to film soundtracks of late and highly recommend the work of Alexandre Desplat, especially his collaborations with Wes Anderson, Mica Levy (Jacky soundtrack) and Max Richter (who I also saw live at Celtic Connections!)
Some great records I keep going back to:
The Books – Lost and Safe
Jon Hopkins – Singularity
Karine Polwart – Traces
The Avalanches – Wildflower
Anais Mitchell – XOA
A Winged Victory for the Sullen
Kiasmos
Nils Frahm – Spaces
Pretty Lights – A Color Map of the Sun
Human Don't Be Angry
What are your plans for the future?
I'm releasing my first recording of original songs in April 'Save His Calm', a prospect simultaneously exciting and terrifying!
I'm doing a lot of production work on some great Scottish albums with releases this year and next which I'm excited to share.
Long term I'd love to have my own studio eventually.
I'm doing a little solo touring this year which is brand new for me, looking forward to that.
I wrote a commission last year for the Scots Fiddle Festival which I would like to see performed again if the opportunity arises. It featured Lauren MacColl, Patsy Reid and Jenna Reid with string quartet, piano and tuned percussion and is called 'The Four Pillars'
How will you celebrate receiving Hands Up for Trad's Ignition Award?
I will throw a party!
Find out more about Mike Vass
Read about our other Ignition Award recipients.
Follow these topics: Ignition, News, Newsletter