Hands Up for Trad's Ignition Award is an award for musicians and bands who put the charge into the tradition. At Hands Up for Trad we like to celebrate innovation so we have brought forward this award to celebrate those musicians who take chances and in doing so make Scottish trad music an exciting place to be. Duncan Lyall is an innovative Scottish musician and composer. He works with many bands and produces lots of great records! Hands Up for Trad recognise the contribution that Duncan has made to Scottish trad music and through his innovative ideas the music continues to move forward and reach new audiences.
We asked Duncan the following questions.
When did you first start playing music?
I started playing the piano around the age of 5. I would sit and listen at the living room door as my sister had a piano lesson, then I would later try and play the things I had heard. My parents decided I should start lessons so I wouldn't teach myself bad habits. The lessons were great. I still managed to teach myself bad habits though! There was always lots of music in the house, parties with everyone singing and playing.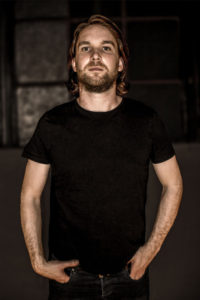 Did you make a conscious decision to be innovative with your music?
It's been a part of me since I was quite young. Any time I sat down at the piano as a kid I would get bored of practicing what I was supposed to be working on and I would start to mess around, finding chords, improvising over the blues scale, writing my own little pieces. I loved finding different sounds I could make with the piano,
dragging a plectrum over the strings or bouncing a ball on them, or muting them with my hand as I played. I found different ways to express myself from an early age, this kind of experimental approach to making music has stuck with me ever since.
Watch Duncan's Ignition Award Acceptance
What are your main influences?
It's a difficult question to answer. Any time I think of an influence I feel it's unfair to all the ones I've forgotten and that it's going to paint an inaccurate picture. But I'll give it my best shot. I'll start with a fairly predictable one: The Beatles, George Martin and Geoff Emerick. As a kid I listened to 'the blue album' [1967-1970] until I'd worn down the record and then worn out the tape.
I'm still fascinated and inspired by stories about how they recorded. In fact, more and more I'm finding inspiration in the ways records were made in the early days. Like Frank Sinatra on one side of a ribbon mic and the entire orchestra on the other side.
Other influences include: Air, Bjork, Radiohead/Nigel Godrich, Daft Punk, Red Hot Chilli Peppers, Bela Fleck and the Flecktones, Solas, Donal Lunny, Cinematic Orchestra, Tucker Martine, Greg Wells, Gary Pacoza, Victor Krauss, Vince Mendoza, Craig Armstrong, Talvin Singh, Massive Attack, The Beastie Boys, Orbital, Goldfrapp, The Meters, Michael Jackson, Prince, John Martin, Joni Mitchell, Brian Eno, Pink Floyd, Feist, James Taylor, Jellyfish, John Butler Trio, Lunasa, Martyn Bennett,  Nickel Creek, Paul Simon, Sting, Peter Gabriel, Radiohead, Regina Spektor, Sigur Ros, Snarky Puppy, Steely Dan, Sufjan Stevens, Nitin Sawhney, Weather Report, Yann Tiersen, 4hero, 1 Giant Leap, Jeff Buckley, JPP, Jill Scott, Annie Lennox/Eurythmics, Funkadelic, the list goes on…
What music excites you that we should be listening to?
I love Debussy for harmony, The Meters for vibe, Air for a musical bath that you can float around in… Once again I feel like these choices are, not arbitrary, but just what I'm thinking of just now and certainly not fully representative.  Who knows. I love music. Music excites me. We should all listen to lots of it!
What are your plans for the future?
I will be recording with Lori Watson. We've been recording a single every month since February 2017. The plan is to keep going with this, with the intention of keeping these singles simple and beautiful, while work begins on studio album that will probably be a bit more adventurous. I think we're going for clarity and strong statements. I'm really interested in finding ways of making a small number of sounds as big as possible. I'm also really interested in emotional responses to music. I'd like to explore this more in my own music as well as Lori's. Writing more of my own music. That's in the plan too. I put down some ideas last year but then I got really into further development of production and engineering techniques. Although this involved a lot of writing and arranging for the projects I was producing, along with my gigging schedule I found it difficult to find time/space to write my own music.
Although I'm really a bass player, I've recently been going back to my roots and playing more piano. I'd like to keep this going, I really love it.
How will you celebrate receiving Hands Up for Trad's Ignition Award?
It's amazing to get this nod. Thank you. I will celebrate with a wee smile and some extra positive vibes. Hopefully I can turn these positive vibes into some new music. So I will celebrate with new music. And probably some gin.
Contact Duncan Lyall
Follow these topics: Ignition, News, Newsletter