Hands Up for Trad's Ignition Award is an award for musicians and bands who put the charge into the tradition. At Hands Up for Trad we like to celebrate innovation so we have brought forward this award to celebrate those musicians who take chances and in doing so make Scottish trad music an exciting place to be. Aidan O'Rourke is an amazing musician who never stops innovating. His work with Lau continually experiments with new ideas and on his own he is always working with different sounds, instrumentalists and is also a prolific composer. Visit Aidan's website for more information.
We asked Aidan O'Rourke the following questions.
When did you first start playing music?
Aged 8 in Oban. I had lessons initially from George McHardy then Maurice Duncan. In my teens I had some classical lessons from Anna McQuorquodale in Ballachulish.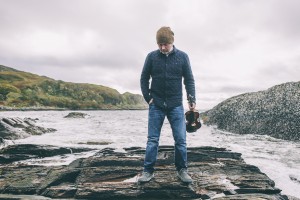 Did you make a conscious decision to be innovative with your music?
I don't think so. I've always felt that the traditional music I grew up playing could exist alongside other forms of music and the inherent sense of melody and rhythm could be expanded into other forms. So maybe my outlook towards the 'tradition' has been a bit innovative.
I had been gigging semi-professionally from the age of 15 but It wasn't until I moved to Edinburgh after finishing uni in Glasgow that I got a real chance to work with other genres and really expand my musical palette. Edinburgh was buzzing with creativity then. This was around 1997. The famous Bongo Club with all it's innovatory nooks and crannies was in full swing. Folkies, classical musicians, jazzers, electronic musicians were all mingling in a heady late night gigs and club nights. There was folk sessions on in a few bars every night of the week and the jazzers were infiltrating these. This lead to many collaborations and varying degrees on innovation.
Watch Aidan's brilliant acceptance video!
What are your main influences?
At the start it was Aly Bain, Tommy Peoples, Kevin Burke, Frankie Gavin. Then Capercaillie, Moving Hearts, Planxty, and Silly Wizard. Then Aphex Twin, Juan Atkins, David Holmes, Steve Reich, Keith Jarrett, John Coltrane, Martyn Bennett, Sigur Ros, Fourtet, Bill Frisell, Daniel Lanois, Brian Eno, Bartok, Beethoven, Vasen, ECM, Scandinavian jazz, Phil Bancroft, Brian Irvine.
Now, anything that is heartfelt and moves me. I'm much less about accuracy and being clever and more about feeling the breath and emotion in the music.
What music excites you that we should be listening to?
I think there's a lot of exciting music coming out of Scandinavia still. I'm loving Christian Wallumrød , Pintura by 1982, Nils Økland's Lumen Drones. I think in Ireland Caoimhin Ó Raghallaigh's making some really beautiful music. I think Sam Amidon is amazing. Thomas Strønen's Time Is Blind Guide. Eric Chenaux's Skullsplitter. Bill Callahan always makes beautiful records.
What are your plans for the future?
I feel like I'm hitting some kind of stride with my writing and I'm hoping to continue with more of that. I have a few nice commissions over the next few months and I'm looking forward to getting stuck into them. I love being at home writing. But also love being away gigging. It's a quandary.
Lau are looking at some bigger projects over the next 18 months.
And I really fancy gigging something really stripped back and acoustic. Maybe with another fiddle.
That kinda thing.
How will you celebrate receiving Hands Up for Trad's Ignition Award?
I'll probably spend all the money on an exotic beach holiday. Near Oban.
Contact Aidan O'Rourke
07779293527
info@aidanorourke.net
http://www.aidanorourke.net
Read about our other Ignition Awardees.
Follow these topics: Ignition, Musicians, News, Newsletter