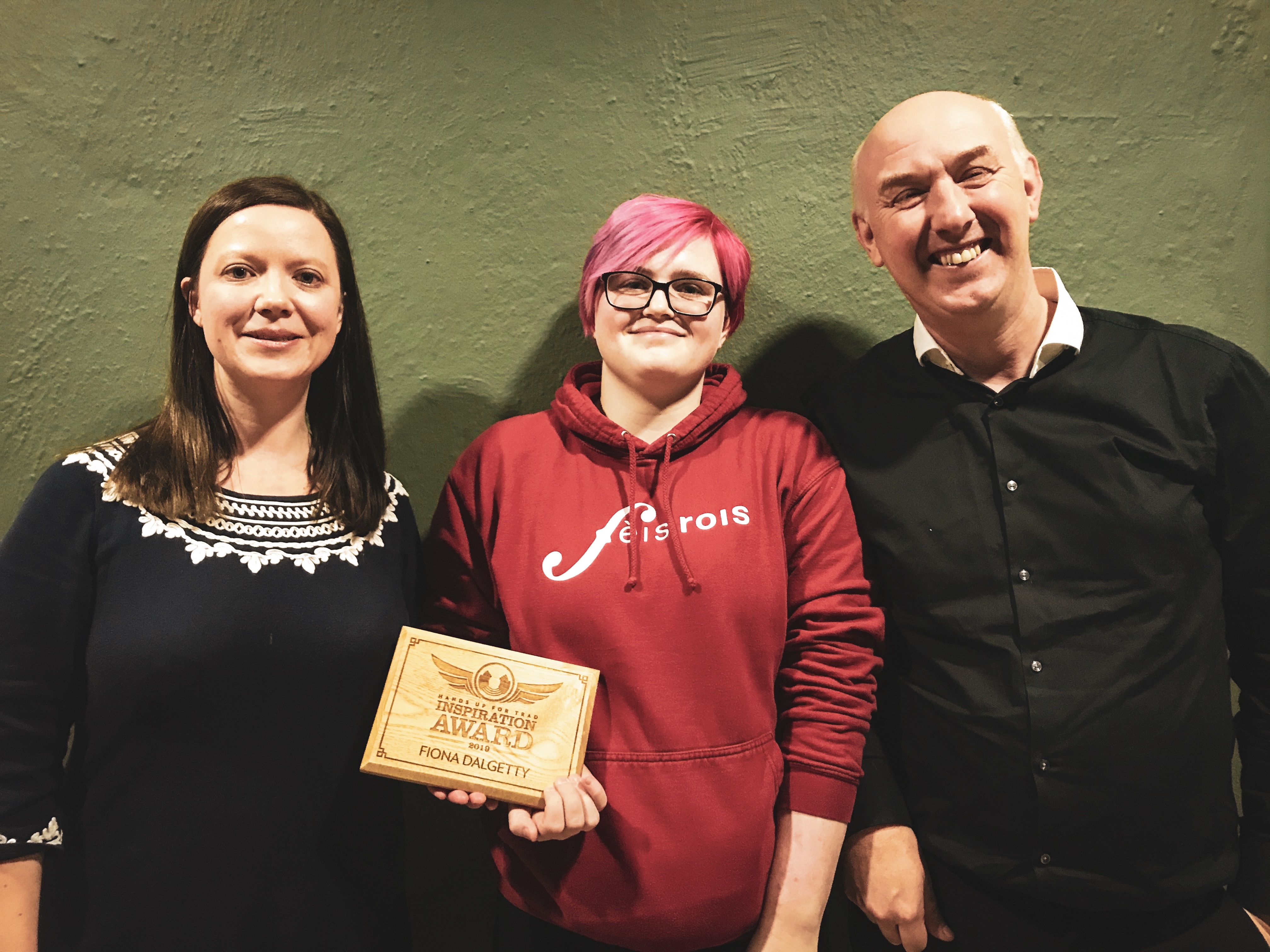 I drove up to Strathspeffer last Friday to present Fiona Dalgetty, the Chief Executive of Fèis Rois with our Inspiration Award. Fiona is an amazing person who works very hard and makes a difference to many peoples lives both in the highlands of Scotland and around the world. Below is my speech of the night. Congratulations Fiona!
I'm here today to present Fiona Dalgetty with the Hands Up for Trad Inspiration Award.
There are not many Scottish musicians who stand side by side with Beyoncé, Taylor Swift and Adel however we all know one! It was amazing to Fiona in the BBC Radio 4's Woman in Music list. What an inspiration to us all!
Fiona's work over the past 10 years at Fèis Rois, as well as her work in the Fèis movement prior to that has supported tens of thousands of young people to get engaged in traditional music. With Feis Rois Fiona has developed new inspirational programmes of work for adult learners, care experienced young people, and people with a wide range of additional support needs.
She is a role model for women demonstrating with aplomb that holding a high profile, full-on job is no barrier to being a fantastic mother to two young boys.
Arthur Cormack said that there is a Gaelic saying "Ha o-buir air a cool-u" which translates roughly as "she puts a lot of work behind her" which we all know Fiona definitely does that!
Arthur goes on to say
"Fiona is an active and effective advocate for the development of traditional music and FOR the role of music-making more generally in improving life skills and overcoming social and learning difficulties. Fèisean nan Gàidheal congratulates Fiona on this latest, well-deserved recognition for a job well done."
Fiona works hard for all levels in traditional music and has made life better for so many musicians. From her Feis Rois commissions to the Under The Canvas project in association with Eden Court and Scotland at Lorient Festival performances she has provided much needed work for so many bands and musicians. I asked for a few quotes from people she has worked with.
Accordionist John Somerville said
Fiona Dalgetty is one of the most hard working and dedicated people I know. She works tirelessly for the Feis and cares massively about all levels of musician from beginners to professionals.
Fiddler Gillian Frame says – Fiona is a huge inspiration to myself and many others. She shows that with hard work and passion it is possible to not only follow your dreams but to do it extremely successfully.
Teacher, web designer and previous Edinburgh Youth Gaitherin chair Dr Paul Murray said
Fiona's passion for traditional music and Gaelic language and culture in unparalleled. She has chosen to dedicate her time to enthusing others and for that she has my huge respect!
Lauren MacColl said that Fiona's endless work ethic always surpasses those around her and makes us all pull up our socks! Most of all, her honest passion and dedication to making our music inclusive for ALL is a beautiful and far-reaching ethos that ensures the music stays at the heart of communities, and ultimately, changes lives.
Throughout all the endless administrating Fiona does for everyone else let's not forget that Fiona is also a fabulous fiddler. She has performed all over the world and I learnt today that she also played music in Jamie Oliver's TV show – something most of us have still to do!
Thank you Fiona for all you do for Scotland. Please welcome Fiona to the stage along with Hannah to receive her Inspiration Award. Congratulations!
Follow these topics: Inspiration, News, Newsletter