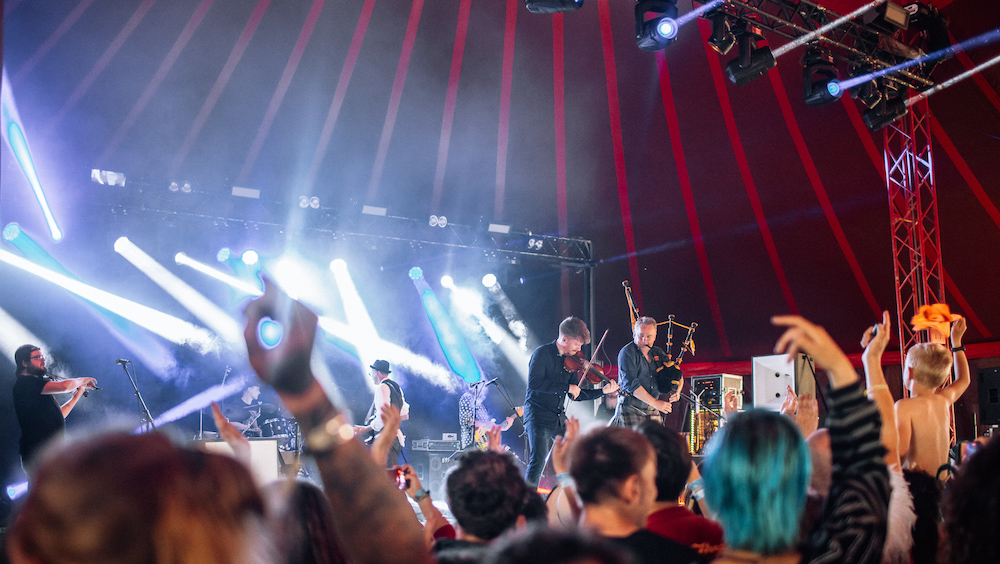 The countdown to Glasgow's newest summertime festival is on, as final preparations for The Reeling get underway and a raft of activity for families and foodies is unveiled.
Thousands of Scottish music fans have snapped up tickets for what will be the biggest single weekend of traditional music in the Central Belt, set at Glasgow's Rouken Glen Park on Saturday 10th and Sunday 11th June 2023.
As well as a world class line-up of musical talent, in just over a week ticket holders will be treated to a fantastic array of food and drink offerings and a brilliant range of activities and workshops celebrating Scottish culture, community and creativity.
The Reeling will team up with Skye's incredible Café Cùil to bring a unique taste of the Highlands to Rouken Glen Park with a pop-up festival restaurant. Event-goers will have the chance to sit down for a delicious meal in amongst the buzzing atmosphere of the park, as the Café Cùil team serves up a menu of dishes inspired by their Hebridean roots, including Skye langoustines and tattie scone tacos.
A coveted line-up of Scottish street food vendors will also line the park, with the likes of Screaming Peacock, Dough Man's Land Pizza, Rost and Street Scullery on hand to dish out tasty plates for attendees on the move.
Official bar providers Paradise Palms will be serving up a range of drinks to suit all tastes, while Portree coffee roastery BIRCH will collaborate with Glasgow's Us V Them Coffee for what will be their first foray off the Isle of Skye.
The Reeling is also partnering with The Woodsman Whisky, a contemporary blended scotch perfect for mixing, so festival-goers can enjoy a dram with ginger beer or mixer of their choice, as they soak up the atmosphere.
The newly announced activities programme for the festival has something for all ages too. A special kids area will keep little ones entertained with face painting, story telling, arts and crafts and a sports day. Jam sessions and workshops will also take place across the weekend, led by musical instrument charity Music Broth.
Parents with young children will also be given a 'pass-out', allowing them to leave the festival grounds to take their kids home and come back before the last entry time of 8pm.
A shuttle bus service has also been launched, running back and forth between Buchanan Bus Station and the festival site across the weekend.
Taking its name from much-loved energetic Scottish dances and tunes, The Reeling will see some of the country's most exciting traditional, folk and roots artists take to the stage.
Scottish favourites Skerryvore, inimitable party starters Peatbog Fairies,Folk Band of the Year Breabach, Gaelic supergroup Daimh, trad four-piece Fras, highly sought-after folk act RURA, Gaelic vocal harmony trio SIAN, groundbreaking and genre-defying trio Talisk and electro-trad duo Valtos are all set to thrill Glasgow crowds with dynamic sets.
Scotland's most celebrated fiddle band Blazin' Fiddles, Hebrides powerhouse Eabhal, Stornoway electro-Celtic band Face The West, energetic trad act Heron Valley, festival favourites Hò-Rò, and many more, will also be performing. A number of special secret sets from some of Scotland's favourite folk musicians are also planned, keeping the surprises coming for audiences all weekend long.
The Reeling will also be partnering with nearby Mòd Phàislig (Paisley) to celebrate Gaelic language and culture, and with a daily showcase from Fèis Phàislig (Paisley) completing the programme, visitors can expect round-the-clock moments of musical spectacle and a weekend bursting with entertainment.
The Reeling Festival Director Michael Pellegrotti said: "With just over a week to go until the first ever Reeling festival, we've been hard at work finalising and perfecting the ideal experience for our Glasgow audiences. We're thrilled to have teamed up with some of Scotland's finest food and drink suppliers, bringing a taste of the Highlands and Islands to Rouken Glen Park. We're also proud to have family-friendly activities running across the weekend to create the perfect day out for people of all ages.
"We can't wait to welcome some of the best talent this country has to offer to the Central Belt, where the appetite for traditional music is prevalent. Thanks to all our partners, sponsors, musicians, and of course everyone who has bought a ticket so far, The Reeling 2023 is shaping up to be a huge success and hopefully the first of many. We've got limited tickets remaining and look forward to welcoming people from near and far to experience The Reeling – roll on the party!"
The 5,000-capacity event has committed to at least a 50% women and gender minority line up through the Keychange initiative and is part of 1% for the Planet which sees 1% of all sales go to the preservation of the natural environment.
The Reeling will take place at Rouken Glen Park on Saturday 10th and Sunday 11th June. Tickets are still available at thereeling.com.
Follow these topics: News, Newsletter