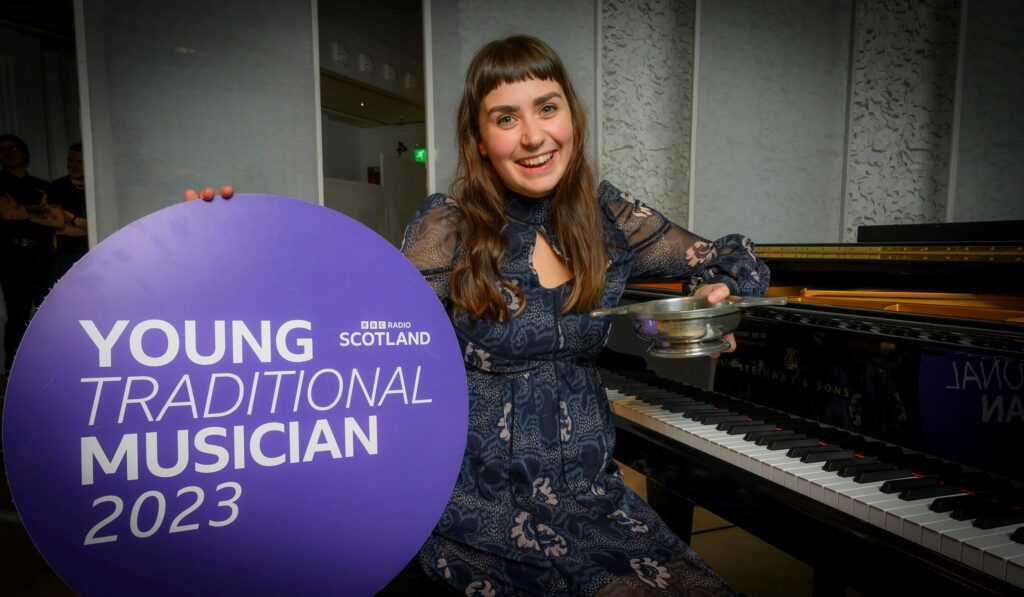 Today BBC Scotland launches their search for the BBC Radio Scotland Young Traditional Musician 2024.
If you are a singer or instrumentalist aged between 16 and 27 with a passion for traditional music, you can apply now and you could win this prestigious title, an additional recording session with BBC Radio Scotland, a performance at the Scots Trad Music Awards and one year's membership of Musicians' Union.
The final event will be broadcast live from the City Halls in Glasgow on 4th February 2024 as part of the Celtic Connections Festival.
"So if you are aged 16 to 27, head to our website now to enter at bbc.co.uk/youngtrad, where you will also find our competition rules and privacy notice. Entries close at 23:59 on Sunday 25th of June 2023".
The semi-finals will be held on Sunday 15th October in Glasgow.
Previous winners are;
Amy Laurenson (2023)
https://amylaurenson.com
Eryn Rae (2022
Michael Biggins (2021)
https://michaelbiggins.co.uk
Ali Levack (2020)
https://www.alilevack.com
Benedict Morris (2019)
https://benedictmorrismusic.com
Hannah Rarity (2018)
https://www.hannahrarity.com
Charlie Stewart (2017)
https://www.facebook.com/charliestewartmusic/
Mohsen Amini (2016)
http://www.mohsenamini.com
Claire Hastings (2015)
http://www.clairehastings.com
Robyn Stapleton (2014)
http://www.robynstapleton.com
Paddy Callaghan (2013)
http://www.paddycallaghan.com
Rona Wilkie (2012)
http://maritandrona.co.uk
Kristan Harvie (2011)
http://kristanharvey.com
Daniel Thorpe (2010)
http://www.danielthorpemusic.com
Rua MacMillan (2009)
http://www.ruamacmillan.com
Ewan Robertson (2008)
http://breabach.com/about/ewan-robertson
Catriona Watt (2007)
https://myspace.com/catrionawattband
Shona Mooney (2006)
http://www.shonamooneymusic.com
Stuart Cassells (2005)
https://www.linkedin.com/pub/stuart-cassells/10/860/94
James Graham (2004)
http://www.cruinn.net
Anna Massie (2003)
http://www.annamassie.com
Emily Smith (2002)
http://www.emilysmith.org
Gillian Frame (2001)
http://www.gillianframe.com
Follow these topics: News, Newsletter, Young Trad