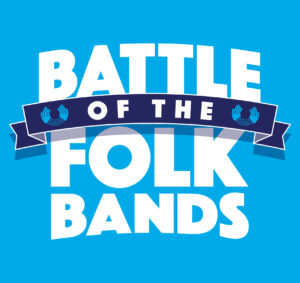 Hands Up for Trad are inviting bands to send in a demo to take part in The Battle of the Folk Bands 2024 competition to be held at Glasgow's Celtic Connections Festival on Saturday January 20th 2024 at 2pm.
TO ENTER FILL IN THE FORM BELOW
If you are in a band or have an idea for a band that you haven't tried out yet this could be for you! We want musicians to take a chance and make a band that you might never have thought of! Your band can have as many as 5 members and as little as 3. it can be a song band or instrumental or a mixture of the two. You don't need to have performed any gigs yet. All you have to do is upload 2 demo mp3s (no bigger than 4MBs each) and a brief resume using the form below. These will be listened to by a selected panel of musicians who are looking for musicality and originality and the 4 best entries will get through to perform at battle of the folk bands at Celtic Connections on January 20th 2024. 1 winner will be chosen at the concert. If you are having trouble uploading MP3s – don't worry. Fill in the form and email Hands Up for Trad.
The prizes are: performances at Celtic Connections and one day recording at GloWorm Recording in Glasgow.
Deadline for submissions is Sunday 29th October 2023. Bands will be informed on the week of 6th November if they have made it through to Battle of The Folk Bands Final.
Please name your MP3s – bandname-BOTFB2024.mp3 so we can tell who they are.
Bands can have between 3 and 5 members inclusive
Bands must play music based on the Scottish tradition
50% of the band members must be Scottish or live in Scotland
Deadline is Sunday 29th October 2023.
As musicians enter this event voluntarily there is no fee for taking part in Battle of The Folk Bands as it is a competition.
Any questions please contact Hands Up for Trad at info@handsupfortrad.scot
Hands Up for Trad's decision is final