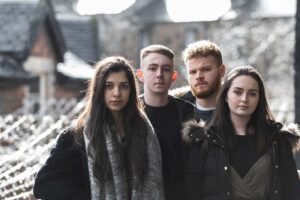 Tarran are finalists in Battle of The Folk Bands 2023. The Finals will be held at Celtic Connections Festival on January 21st 2023 in Glasgow's Belhaven Brewery. Buy a ticket here.
T A Я R A N are an exciting four-piece contemporary traditional band currently based in Glasgow, with roots in both the western isles and Ireland. Malachy Arnold (Harp) grew up in Glasgow and spent his early years in Skye where Gàidhlig culture and music was very much part of his life, and his music is also heavily influenced by his family roots. Rory Stark (Whistle and Bodhrán) has won the All Ireland Fleadh competition on several occasions and is heavily rooted in the Glasgow music scene. Breanna Wilson (Fiddle) also from Glasgow, grew up with strong ties to Scottish and Irish traditional music, along with Malachy and Rory they competed and played at many concerts and Fleadhs across Scotland and Ireland. Sophie Joint (Piano) plays regularly with Breanna as a duo, and they are proud winners of the Molly Award at the Birmingham Trad Fest and have played at many international music festivals such as IMBOLC in Ireland, Celtic Colours in Canada and Festival Interceltique de Lorient in Brittany, France. In 2019/20 they all came together to form the band T A Я R A N taking part in the Danny Kyle Open Stage at Celtic Connections in 2020, which they went on to win. Sadly, shortly after that, the Pandemic put a halt to their live gigs but they continued to perform and collaborate online.
As live music has gradually started to open up again T A Я R A N have gone from strength to strength, performing at concerts and ceilidh's across the city of Glasgow and most recently the opening night of Under Canvas 2022 held by Eden Court in Inverness. Malachy Arnold, Breanna Wilson and Sophie Joint, are all also alumni of the Royal Conservatoire of Scotland, BMus Traditional Music course. Early this year, all three proceeded as 3 of the 6 finalists for the BBC Radio Scotland Young Traditional Musician of 2022 award,
They performed live at the final to a packed Glasgow City Halls, and it was broadcast live on BBC Alba and on BBC Radio Scotland as part of Celtic Connections Festival 2022.
T A Я R A N have some very exciting projects lined up, and are looking forward to being able to continue to collaborate and play live gigs and festivals together.
Find out more about Tarran https://www.instagram.com/tarranmusic/
Follow these topics: Battle of the Folk Bands, News