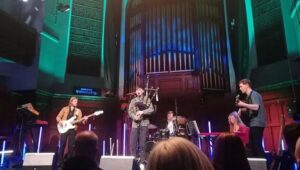 Kenneth Macfarlane have reached the finals of Battle of The Folk Bands 2022. The competition will be held at Celtic Connections on January 29th in the Drygate Brewery at 1pm. Why not come along and join in the fun? You can buy tickets here.
We asked Kenneth of Kenneth Macfarlane a few questions about the band.
Tell us about your band
A recent graduate of the Royal Conservatoire of Scotland, Kenneth brings together friends from different musical backgrounds to fuse together a unique sound. Catchy riffs and synth basslines draw from Jazz, Electronica & Hip-Hop influences, while the newly composed melodies feel rooted within the tradition.
Who are the band members
Kenneth Macfarlane – Whistles
Iona Reid – Keyboard
Zak Younger Banks – Guitars
Jack Wakeman – Bass/Synths
Callum Edwards – Drum Kit
What are you hopes and aspirations for the band?
To write more music together now that covid isn't as limiting, and to play that live to audiences.
Check out the band's website.
Battle of The Folk Bands is a Hands Up for Trad project. Read about the organisation and join our weekly Scottish music information email here.
Follow these topics: Battle of the Folk Bands, News