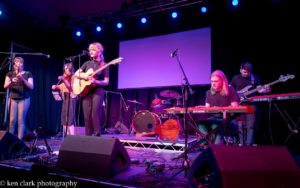 Rumskee have reached the finals of Battle of The Folk Bands 2020. The competition will be held at Celtic Connections on January 25th in the Drygate Brewery at 1pm. Why not come along and join in the fun? You can buy tickets here.
We asked Holli of Rumskee a few questions about the band.
Tell us about your band
Rumskee are a band formed of 5 members between the ages of 18-22 with a line up of fiddle, pipes/whistles, keys, vocals/guitar and bass. Formed in 2018 after meeting through the Argyll Ceilidh Trail, they come from all over Argyll and aim to create a unique sound embedded in their west-coast trad roots. They play a mixture of their own compositions and arrangements of traditional tunes to showcase young Scottish music.
Who are the band members
Emma Baird – Vocals/Guitar
Ruaridh Litster-Campbell – Keyboard
Andrew Mcallister – Bass
Kate MacPherson – Whistles/Small Pipes/Highland Pipes
Holli Scott – Fiddle
What are you hopes and aspirations for the band?
We released an EP last year and would love to expand our recorded material and release an album. We also would like to continue gigging further afield to promote the neo-traditional Scottish music genre.
Check out the band's website.
Battle of The Folk Bands is a Hands Up for Trad project. Read about the organisation and join our weekly Scottish music information email here.
Follow these topics: Battle of the Folk Bands