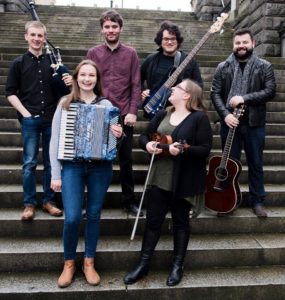 Eriska have reached the finals of Battle of The Folk Bands 2018. The competition will be held at TradFest on May 6th 2018 in Edinburgh. Why not come along and join in the fun? You can buy tickets here. Read about all the finalists here.
We asked Aileen of Eriska a few questions about the band.
Tell us about your band
Eriska is a six-piece Glasgow-based folk band established in 2016. The band's line up includes members from the traditional music, jazz, and classical courses at the Royal Conservatoire of Scotland. The members draw upon their disparate backgrounds and combine rock, jazz and folk styles to create a unique sound using both traditional tunes and band members' original compositions. With musicians from Argentina, Italy and the USA as well as Scotland, they blend many musical traditions together to make a fresh kind of Scottish music. The band was awarded a Highly Commended at The Danny Kyle Open Stage 2017 and 2018 at Celtic Connections. Following from this, Eriska was invited to perform on STV Glasgow's Live at Five show and have their music played on RTE Radio Ireland as well as play a live session on Cam Glen radio. The band have headlined in Cottiers theatre, played on the mainstage at the 02 ABC in Glasgow as well as playing at Eden, Piping Live, Mull of Kintyre and Bute Festivals. They look forward to recording and releasing their debut album this year.
Who are the band members
Madeleine Stewart – Fiddle
Scott Figgins – Pipes/Whistles
Aileen Sweeney – Accordion
Gavin Paterson – Drums
Julian Pombo – Bass
Dario Palazzo – Guitar
What are you hopes and aspirations for the band?
We hope to get as many gigs as possible and start playing further afield at festivals and events outside of Scotland. Once we release our debut album this year, we will get straight back into rehearsals to begin work on album number 2 where we hope to develop our unique sound even further.
Check out the band's website.
Battle of The Folk Bands is a Hands Up for Trad project. Read about the organisation and join our weekly Scottish music information email here.
Follow these topics: Battle of the Folk Bands, News