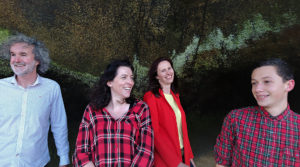 Dougal's Jumper have reached the finals of Battle of The Folk Bands 2019. The competition will be held at Celtic Connections on January 19th in the Drygate Brewary at 1pm. Why not come along and join in the fun? You can buy tickets here.
We asked Maria of Dougal's Jumper a few questions about the band.
Tell us about your band
Bringing together Scottish smallpipes and bagpipes, uilleann pipes, fiddle, whistles, accordion, guitar, mandolin, bass guitar and vocals, Dougal's Jumper manage to fashion their own brand of cosy Trad-tinged pop.
Let Dougal's Jumper wrap you up in their infectious mix of their own songs and some foot-stomping tunes.
Since forming in 2016, Dougal's Jumper have appeared at events including the Belladrum Tartan Heart Festival, Speyfest, the Islay Festival of Music and Malt, the Speyside Whisky Festival, Jocktoberfest, various beer and gin festivals and have even been the live house band for Moray Firth Radio's breakfast show.
Dougal's Jumper are rapidly gaining a reputation for their energetic and entertaining performances and make it their business to get the crowd involved in their show!
Who are the band members
Catherine Stables – Scottish Smallpipes/Bagpipes
Maria Miller – Vocals/Acoustic Guitar/Mandolin/Accordion
Joseph Souter – Uilleann Pipes/Fiddle/Whistles
Mike Reeves – Bass Guitar/Acoustic Guitar/Stomp Box
What are you hopes and aspirations for the band?
We all really enjoy playing live and hope we can take our music to a wider audience.
Having been to so many great festivals, gigs and events it would be such a thrill to experience them from the stage instead. We'd love to be a support act for some of the many artists we admire.
We are looking forward to finishing our CD and would love for it to get some exposure.
Check out the band's website.
Battle of The Folk Bands is a Hands Up for Trad project. Read about the organisation and join our weekly Scottish music information email here.
Follow these topics: Battle of the Folk Bands