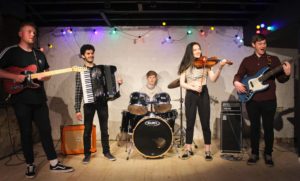 DLÙ have reached the finals of Battle of The Folk Bands 2019. The competition will be held at Celtic Connections on January 19th in the Drygate Brewary at 1pm. Why not come along and join in the fun? You can buy tickets here.
We asked Zach of DLÙ a few questions about the band.
Tell us about your band
DLÙ are a modern trad fusion band from Glasgow. Finalists of the Danny Kyle Open Stage 2018, their urban upbringings, diverse musical backgrounds and youthful energy set them apart from the status-quo. They met and became friends during their time at the Glasgow Gaelic School. This inspired their name which derives from the gaelic word 'dlùth', meaning tight-knit and close. In August 2018 they released their debut single 'Anmoch'
Who are the band members
Moilidh NicGriogair- Fiddle
Zach Ronan- Accordion
Aidan Spiers- Guitar
Jack Dorrian- Bass
Andrew Grossart- Drums
What are you hopes and aspirations for the band?
DLÙ aims to release an EP in January 2019 followed by an album in 2020. We therefore hope to raise the funds to make it back into the studio next year. We also hope to make an appearance on the festival scene next summer as we see that as being the next step in our live performance. One of DLÙ's primary objectives is to broaden the traditional music audience. We hope to achieve this by writing music that appeals to people with varied musical tastes and aspire to create an international audience by touring outside of Scotland at some point. Finally, as four out of five members are fluent Gaelic speakers, spreading awareness of the language and the traditions which inspire our music is also one of our aims.
Check out the band's website.
Battle of The Folk Bands is a Hands Up for Trad project. Read about the organisation and join our weekly Scottish music information email here.
Follow these topics: Battle of the Folk Bands