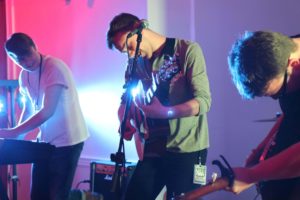 5 Strings have reached the finals of Battle of The Folk Bands 2019. The competition will be held at Celtic Connections on January 19th in the Drygate Brewary at 1pm. Why not come along and join in the fun? You can buy tickets here.
We asked Ewan of 5 Strings a few questions about the band.
Tell us about your band
We started playing music together as part of a school music project at Inveralmond Community High School in Livingston back around 2014 and since evolved to create the sound of "5 Strings" today. Drawing influence from our home roots of Scottish Trad, Bluegrass and Gospel music, our motivation on the sound we work with is simply this; how big a sound can we make with raw, acoustic instruments?
Since leaving school, 5 Strings found success playing at local community events before reaching out from West Lothian to play at festivals across the country including Eden and Gig in the Goil.
Overtime we got together to pen our first few songs, and they were released in the form of our debut EP "Holy Hands" in 2016 and a followup single "The Rabbit" in 2017.
Who are the band members
Ewan Wilson – Lead Vocals, Acoustic Guitar & Percussion
Joel Murray – Banjo & Bagpipes
Euan Cowan – Piano & Keys
Aidan Lamb – Session Drums & Percussion
What are you hopes and aspirations for the band?
Gigging and travelling is basically the reason we do what we do. We hope to get together and work on some new projects over the next year, maybe some new music or videos.. we'll see.
Check out the band's website.
Battle of The Folk Bands is a Hands Up for Trad project. Read about the organisation and join our weekly Scottish music information email here.
Follow these topics: Battle of the Folk Bands