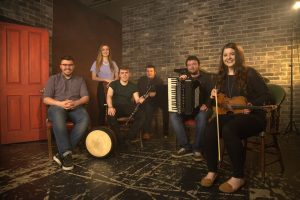 TRIP have reached the finals of Battle of The Folk Bands 2017. The competition will be held at TradFest on May 7th 2017 in Edinburgh. Why not come along and join in the fun? You can buy tickets here. Read about all the finalists here.
We asked Isla of TRIP a few questions about the band.
Tell us about your band
TRIP are a new six-piece trad band based in Glasgow that encompass music from the cultures and traditions of Scotland, England, Ireland and the Isle of Man.
All currently in their first year at the Royal Conservatoire of Scotland, they began playing together through informal freshers week sessions in September, and instantly clicked through their shared love of traditional music.
Their combination of melodies from Newcastle accordionist Michael Biggins, Sligo flautist Tiernan Courell, Manx fiddler Isla Callister, Lewis singer Mairi Maclennan and versatile accompaniment of fellow Scots Rory Matheson (piano) and Craig Baxter (bodhran) produce a powerful, driven and energetic sound that contrasts from fast jigs and reels to captivating Gaelic song.
Who are the band members
Tiernan Courell – Flute
Michael Biggins – Accordion
Isla Callister – Fiddle
Mairi Maclennan – Vocals
Rory Matheson – Piano
Craig Baxter – Bodhrán
What are you hopes and aspirations for the band?
We hope to develop our style and grow as a band to become an active part of the UK Trad folk circuit. We believe that performance opportunities such as Battle of the Bands are a great platform to showcase our music that we hope combines our shared cultures and music to create something new and exciting.
Check out the band's website.
Battle of The Folk Bands is a Hands Up for Trad project. Read about the organisation and join our weekly Scottish music information email here.
Follow these topics: News