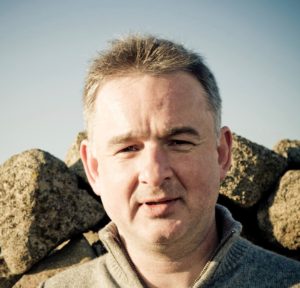 Scotland is very fortunate in the depth and strength of its traditional musicians. At any given time, there are several generations working in the music sector and as the workforce naturally changes through time, older musicians have different priorities to their younger colleagues. In order to better appreciate these differences, Hands Up for Trad are asking musicians who have been working within the sector for a good few years the following questions.
Thanks to Peter for sharing his thoughts with us. Peter Morrison is a piper, whistle player and composer from Skye, best known for his work with Peatbog Faeries.
Why did you become a musician?
When I was young, all pupils in Skye schools were given the chance to learn pipes. It was the only music tuition available in the primary school I went to. I was attracted to the pipes from an early age and was fortunate to have been brought up in an area where traditional music was all around me. I had the opportunity to play with others and perform publicly from quite an early age.
What has changed about your music as you get older? Do you think about it differently?
I'm best known for the more experimental side of traditional music over the last 25 years, having written over a third of all the tunes the Peatbog Faeries have recorded. Though I still enjoy working with the band, I have become much more interested in the traditional music of Skye and Raasay and spend a lot of time researching old tunes, which I perform at gigs and sessions with Seumas MacLennan, a Skye bouzouki player.
What are the different aspects of your work?
Most of my work has involved performing, writing, recording and administration for the Peatbog Faeries. At home in Skye, I've been hosting sessions for the last 18 years and play in various duos and trios. I do a small amount of teaching but prefer performing.
What are your priorities as a musician?
My priorities nowadays are promoting and playing the traditional music of Skye. There is so much music from this area that deserves more exposure.
What are the major challenges you've faced making it as a musician?
When the Peatbog Faeries first became popular it was still very difficult to be a full time folk musician. Trying to hold down a full time job to support a family while at the same time finding the time to practise enough to keep up the standard to play at big events was difficult. Nowadays the big problem is the lack of motivation to record albums with streaming etc making them financially unviable. When I was younger we would record just to get our music out there, now I'm happier with live performances rather than feeling exploited.
Who are your influences and is there anyone in particular who is driving your work at the moment?
My influences were local musicians here on Skye. Players I heard and played with at ceilidhs. In the beginning days of the Peatbog Faeries, Silly Wizard and Davey Spillane were probably my main influences. I don't feel particularly influenced be anyone else in the folk scene, though there are many I admire.
What's the best advice you have ever had?
Being told "you can't polish a turd".
What is next for you?
I've been working on a collection of traditional music from Skye along with some of my original tunes. I hope so spend more time playing in duos and trios and, hopefully, finally, getting round to recording a solo album.
Listen to Peter Morrison's music
https://soundcloud.com/peter-morrison
Visit Peter's website and buy their music https://www.facebook.com/PeterMorrisonSkye/
Thanks to Peter for taking the time to answer these questions. Read all our A Life In Trad Music articles. If you would like to keep up with all Hands Up for Trad's news and events join the Hands Up for Trad newsletter. Remember and support musicians by buying their records and going to their performances.
Follow these topics: A Life in Trad Music, News, Newsletter