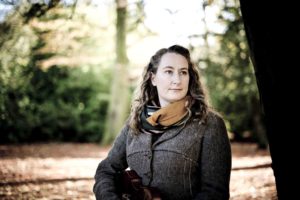 Scotland is very fortunate in the depth and strength of its traditional musicians. At any given time, there are several generations working in the music sector and as the workforce naturally changes through time, older musicians have different priorities to their younger colleagues. In order to better appreciate these differences, Hands Up for Trad are asking musicians who have been working within the sector for a good few years the following questions.
Thanks to Gillian for sharing her thoughts with us. Arran-born fiddler and singer Gillian Frame is a captivating performer whose richly diverse musical experience, shines vibrantly through her mix of tunes and songs. Winner of the inaugural Radio Scotland Young Musician of the Year contest in 2001, her recent release "Pendulum" received high praise from fans and critics alike and was described by BBC Radio 2's Mike Harding as "one of the best albums of recent times."
Gillian has worked with many acts and was a founding member of the band Back of the Moon with whom she toured for seven years, seeing them win various accolades including Best Up and Coming Act followed by Best Folk Band at the Scots Trad Music Awards. During this time she also graduated with a BA (Hons) in Scottish Music from the Royal Conservatoire of Scotland.
A highly skilled and experienced teacher Gillian Frame was awarded Tutor of the Year at the Scots Trad Music Awards in 2012. She continues to enjoy passing on her love of traditional music and song.
Why did you become a musician?
I don't remember actually deciding to become a musician. I know I have been surrounded by music all my life and all paths just seemed to lead in that direction. There is know doubt that it's certainly when I'm at my happiest.
What has changed about your music as you get older? Do you think about it differently?
I guess my music has settled and matured. I know what I like now, not what I'm supposed to like, and I have more confidence to stick with that.
What are the different aspects of your work?
I have always done both teaching and performing. I enjoy both equally and it used to be if one took over from the other I felt the need to get the balance right again. Since becoming a parent I do much less touring. That was my decision and I feel it was right for me at that time. Not being away on longs tours means I have been able to be very flexible and enjoy lots of variety in my work. E.g I'm currently busy playing with the Cask Strength Ceilidh Band, becoming a trainer for ABC Creative Music with Phil and Tom Bancroft and Amy Geddes, planning, rehearsing and recording a new album with my husband Findlay Napier and good pal Mike Vass.
What are your priorities as a musician?
To have fun. Of course I also need to pay the bills too! However if playing music ever becomes a chore I would definitely think about doing something else. I can't think of many instances where I have not been enjoying myself. In those cases I have moved away from them as quickly as possible.
What are the major challenges you've faced making it as a musician?
The hardest time for me was getting the balance between my musical career (and musician lifestyle) and being a mum. In the words of Andy Nyman (actor)…. "it's marrying what you want from life with the realities of trying to work as a creative." Not easy! Some days I feel like I'm nailing it. Other days not so much!! It is so important to keep your own identity and music is such a huge part of mine. This is tricky when so much of this is based around late nights and pubs!
Who are your influences and is there anyone in particular who is driving your work at the moment?
I'm very fortunate to have been inspired and taught by many musicians and singers over the years and I am massively grateful to them. However, I feel my biggest influences are those I have worked closely and regularly with, in band and also session contexts. In particular Findlay Napier, Ali Hutton, Hamish Napier, Simon McKerrell, Mike Vass, Fiona MacAskill and Kev O'Neill.
What's the best advice you have ever had?
"Find the joy in what you do." "Be happy, you'll work more." "Never compare, never compete." "Pat yourself on the back." All from Andy Nyman again! In fact everyone should just listen to this…. even if you skip you about 43 mins in! I think it is essential listening for all creatives! 🙂 http://www.comedianscomedian.com/240-andy-nyman/
What is next for you?
"The Ledger". A new album with Findlay Napier and Mike Vass.
Before The Scottish Folksinger and before The Wee Red Book, Norman Buchan published a weekly folksong column for The Scotsman newspaper. Findlay's Grandfather collected them and pasted them into an old ledger book. We have chosen an album's worth from this collection and started recording them this month at Gloworm Recording Studios here in Glasgow. Very exciting!
Listen to Gillian Frame's music
https://gillianframe.bandcamp.com
Visit Gillian's website and buy their music http://www.gillianframe.com
Thanks to Gillian for taking the time to answer these questions. Read all our A Life In Trad Music articles. If you would like to keep up with all Hands Up for Trad's news and events join the Hands Up for Trad newsletter. Remember and support musicians by buying their records and going to their performances.
Follow these topics: A Life in Trad Music, News, Newsletter