Hands Up for Trad's Trad Music Spotlight is a monthly feature on a band or solo artist. It was first launched in February 2015 and features musicians who are working in the trad scene – both in Scotland and around the world. We asked Hamish Napier a few questions.
What's happening?
I've moved back to the Highlands! After 16 years in Glasgow, I've gone native!
So I'm back up here in Strathspey, in the Cairngorm National Park, to write music, practice and create a new folk music theory resource (book and online)! Gulp! I'm also enjoying the great outdoors here – walking, running, cycling, skiing and swimming – and there's wildlife on my doorstep (literally). I love it. It's where I grew up and where I want to be – I think! I now travel to Glasgow each week to teach composition and music theory at the Royal Conservatoire of Scotland (RCS) and do gigs.
For over a decade I have been busy on Glasgow's vibrant folk music scene, touring in Europe and North America with folk quartet Back of the Moon (Folk Band of the Year 2005, Scots Trad Music Awards). After gaining two degrees, in Astronomy and Music, I was then awarded a year's scholarship to study jazz piano and composition at the Berklee College of Music in Boston, USA. I had an amazing year there, jazz piano, ear-training, harmonic study, Old Time, Bluegrass and lovely people – that was 5 years ago.
I'm fortunate to be working as an accompanist and co-arranger with some of my very favourite composers/musicians, including Duncan Chisholm, Ross Ainslie, Jarlath Henderson, Gary Innes and Adam Sutherland.
I have a duo with Adam Sutherland called 'Nae Plans'. I'm a huge fan of Adam's fiddle playing, and his tunes. I also love the duo because I get free reign to do anything on the gig: pianos, keyboards, flutes, whistles, songs, poetry and I have even been known to step dance on a few gigs (very averagely mind you)! It's challenging, engaging and generally real seat-of-the-pants stuff. We work with no setlist, with no rehearsals, as a rule, and it's imperative that we take massive risks. There are always clangers on the gigs somewhere, but then there are moments of spontaneous beauty too! We both love it, and 5 years later we're still going and haven't killed each other yet!
I have a new album out 'The Railway'. Well, it's not out until 1st August but you can pre-order it from: https://hamishnapier.bandcamp.com/album/the-railway (and download the first 3 tracks the now).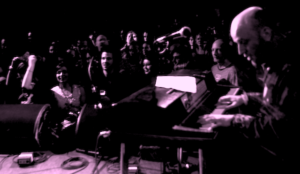 When did you start?
Well it all started with my mother! She is a harpist, composer and singer, and has shared her love of trad music (Scots, Gaelic and Irish) with me and my brother Findlay Napier (also a musician). We had damn good house ceilidhs at Cherrygrove while growing up – we still do actually!
I was fortunate to be brought up among the Fèis movement (Fèis Spè !). Soon after I began my work as a junior music tutor for several community music groups and projects in Glasgow while I was a student. Going to sessions and learning from my peers (and family!) in my first band Back of the Moon was an amazing training. I'm so lucky that bandmemebrs Gillian Frame, Ali Hutton, Simon McKerrell and my brother Findlay were happy to teach me so much about music, and also give me so many amazing opportunities.
3 years ago I decided to turn to home for inspiration for my first solo album, 'The River', which was commissioned by Celtic Connections festival as part of their acclaimed 'New Voices' series. It celebrates the myths, people and wildlife connected to the River Spey, which runs right by my childhood home. Since the premiere I have taken the piece further afield, performing at the 250th Anniversary of the town of Grantown-on-Spey, at 'Trad Fest' on the Isle of Man, in the RCS Concert Hall Glasgow and Perth Concert Hall. For each show I worked with local young musicians to create a first-half of music, entitled 'From the Source', which celebrates each region's local music.
https://www.youtube.com/user/hamishnapier/videos
What excites you about performing Scottish music?
Nuance, variability, style, intimate musical connections, history, improvisation, strong sense of place, the buzz of big crescendos, technical harmonic ideas, glorious melodies, landscapes, unique voices and communication (rapid, brave and unspoken between humans). I feel proud of Scotland vast and diverse musical heritage.
It's a honour to be able to do this for a living.
What's next for you?
'THE RAILWAY;
My new album 'The Railway' (to be released 1st August) doubles as a soundtrack. I was specially commissioned by the owners of 'Grantown East: Highland Heritage & Cultural Centre' to compose music for their awesome new visitor attraction in my hometown of Grantown-on-Spey. The derelict Grantown East railway station has recently had a serious make-over and has been lovingly restored as a cultural centre. The grand opening is 2nd November 2018 – and I'll be performing the music live there. My soundtrack seeks to capture the sounds, atmosphere and culture surrounding the old Speyside Line (the whisky line that served many of the world famous local whisky distilleries and it's people). The album consists of 17 new tunes, 2 songs, 15 tracks, 47 minutes, 2 studios, 2 producers, 9 musicians, 23 instruments, one 4-and-a-half year old, 13 vintage photographs, three 90-year-old railwaymen, 12 steam engines, 3 diesel trains, 2 rail companies, 9 stations, 106 miles of track, 827 cups of tea, 4 fireplaces and a sheep!
In early August I'll be taking 'The Railway' to Edinburgh Festival for a live BBC Concert and I'll also be Headlining Glasgow's 'Piping Live' Festival a few weeks later. We are launching the new Grantown East Centre on 2nd November! I'm really excited about it all!
'FROM THE SOURCE – THE RIVER'
I will be taking my home-inspired compositions 'The River' and 'The Railway' to venues and audiences around Scotland and the UK, working with young people for my 'From the Source' show, and helping them to discover a pride in their own local music and community.
SANDWOOD
Recently I 've been performing with Duncan Chisholm's 'Gathering', playing music from his acclaimed 'Sandwood' album (inspired by a remote beach near Cape Wrath). I am thrilled that the slow air Duncan closes the album with is one of my own. I also co-wrote and arranged six other tunes with Duncan for the project. 'Sandwood' is definitely the most beautiful album I've ever been involved with, with landscape and a strong sense of place at the heart of the music. Duncan is a masterful fiddler and landscape composer. He seems to possess a kind of musical sixth-sense, and has been a huge inspiration to me for as long as I can remember.
https://hamishnapier.bandcamp.com
Read more about Hamish Napier at their website http://www.hamishnapier.com
Follow these topics: News, Newsletter, Spotlight