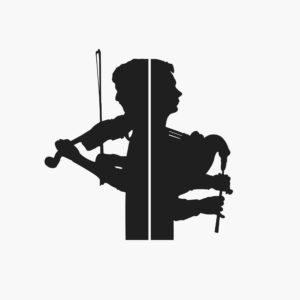 These melodies all come from Gaelic songs from Tiree. The first song, Òran Manitoba, is from the famous John MacLean, 'Bàrd Bailemhartain'. Bailemartain was home to so many bards at one point, it was known locally as 'Baile nam Bàrd', or the Village of the Bards.
Tir a' Mhurain, or The Land of the Maram Grass was composed by my great-auntie Sarah 'Skippinis' MacDonald in praise of Tiree. The third song, Air Mhadainn Diardaoin was written by Capt. Alick MacDonald of Milton and tells of a ship leaving from Caolas in the east end of the island. Anna joins us again on the clarsach for this set.
The musical partnership of the Scottish Pipes and Fiddle is one that is quintessentially and historically Hebridean. Jamie MacDonald and Christian Gamauf have taken this format and incorporated influences from places such as Cape Breton Island in Nova Scotia and Asturias in the north of Spain, putting their own stamp on the music.
Jamie and Christian met while living and studying on the Isles of Uist and began playing together at local concerts and events. After travelling to Asturius on a musical and cultural exchange project, along with performances at Ceòl on the Croft, Celtic Connections and Celtic Colours Festivals, the duo started working on their debut album, 'The Pipe Slang".
Artist website: http://www.pipeslang.com
Single title: Tiree Melodies
Album title: The Pipe Slang
Release Date: 01/06/2018
Single artist: Jamie MacDonald and Christian Gamauf
Single duration: 3.48
Record Label: PipeSlang Records
Catalogue No: JMCG01
Writers: John MacLean, Sarah MacDonald and Alick MacDonald
Publishers: Jamie MacDonald and Christian Gamauf
Explicit?: no
Search Terms:
Follow these topics: bagpipes, Featured release, fiddle, Releases