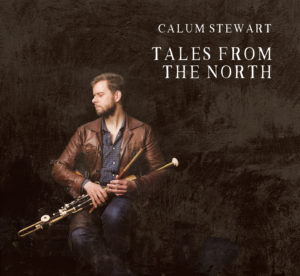 "Tales from the North" is the much-anticipated new album from leading Uilleann piper Calum Stewart. Inspired by his native Moray and North of Scotland, "Tales from the North" is a celebration of legend, landscape, people and adventure.
His first solo album to feature primarily his own compositions, "Tales from the North" is a true reflection of Calum's powerful and expressive playing style.
A leading Uilleann Piper, Calum Stewart's powerful and lyrical playing style is rooted in the traditional music of his native northern Scotland. His distinct musical voice has been developed through collaborations within the Scottish, Irish and Breton traditions.
In addition to his concert schedule, Calum is in demand as a recording artist, with recent work including recordings and performances with The London Philharmonic Orchestra, The London Symphony Orchestra and BBC Scottish Symphony Orchestra.
"An astounding Uilleann Piper … Music that runs as pure as a Highland stream."
ACOUSTIC Magazine.
"Seriously class playing."
BBC Radio Scotland.
"A musician of outstanding virtuosity… Mountain-air piping clarity."
Irish Music Magazine.
"Hits you right between the eyes. Outstanding"
The Living Tradition.
"Calum Stewart joins the ranks of thoroughly modern Uilleann Pipers, who are steeped in their own tradition but cross borders to bring in other influences, and can write a damned fine tune".
Folk Radio
Artist website: http://www.calum-stewart.com
Single title: The Angel's Share
Album title: Tales From The North
Release Date: 17/10/2017
Single artist: Calum Stewart
Single duration: 03.53
Record Label: Earlywood Music
Catalogue No: EMCD02
Writers: Calum Stewart
Publishers: Calum Stewart
Explicit?: No
Search Terms:
Follow these topics: bagpipes, Featured release, Releases