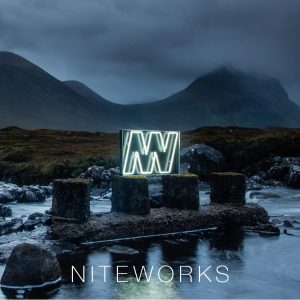 'Obair Oidhche' is an instrumental track from Niteworks debut album 'NW'. Featuring a composition by the legendary piper Gordon Duncan, set over an intricate rhythm and lush synths. The track is as at home on the headphones as it is on the dance floor, working listeners into a trance as it travels seamlessly forward.
The title is derived from a short sample used in the track, andtranslates into English as 'Night Work'. The band's name comes from the same sample, a recording of elderly Gaelic speaker on their native Skye discussing the change of life on the Island.
Niteworks are Ruairidh Graham, Allan MacDonald, Christopher Nicolson & Innes Strachan. Formed on the Isle of Skye in Scotland, they fuse electronica with Gaelic song & Scottish traditional music to create a unique and mesmerising sound. The band released their long awaited debut album 'NW' in late 2015 to significant acclaim, and are well known for their electrifying live performances at festivals and clubs across the country.
Artist website: http://niteworksband.com
Single title: Obair Oidhche
Album title: NW
Release Date: 26/10/2015
Single artist: Niteworks
Single duration: 5:03
Record Label: Comann Music
Catalogue No: CM001
Writers: Ruairidh Graham, Allan MacDonald, Christopher Nicolson, Innes Strachan & Gordon Duncan.
Publishers: Niteworks
Explicit?: No
Search Terms:
Follow these topics: bagpipes, contemporary, electronic, Featured release, Gaelic language songs, pipe band, Releases